01.
A river and a hope: Nairobi has an attending vision
Kenya's capital Nairobi means "A place of cool waters", a name derived from the Maasai tribe over a century ago. Nairobi was then a fertile land, full of life, where man was one with nature. Its natives understood her worth and respected her contribution to their daily needs. Thus, Nairobi was a scene of pure raw natural beauty undisturbed by man's quest for modernity.
Then times changed, and there came the need for global industrial development and this once great land has been slowly dying from the effects of man's quest for manufactured goods. Trees were cut in their hundreds and land was cleared to pave way for small administrative centres, that further grew into the current cities and towns we have today.
These past environmental recklessness continued after independence as Nairobi strived to be part of a world now steeped in industrial globalisation, as with the case with much of Africa then. Now, its main river Nairobi stands as a true testament to the effects of environmental neglect that has prevailed since then.
Due to rapid economic developments in Nairobi compared to rural areas, the thirst for a better living has led to the ever-growing rural –urban migration that is largely settling along its riverbed. The situation is further worsened by lack of proper urban planning systems governing the region, leading to the mushrooming of forty-six different informal settlements along the Nairobi riverbed. These settlements lack vital water and sewage systems thus, turning the river into a sewer.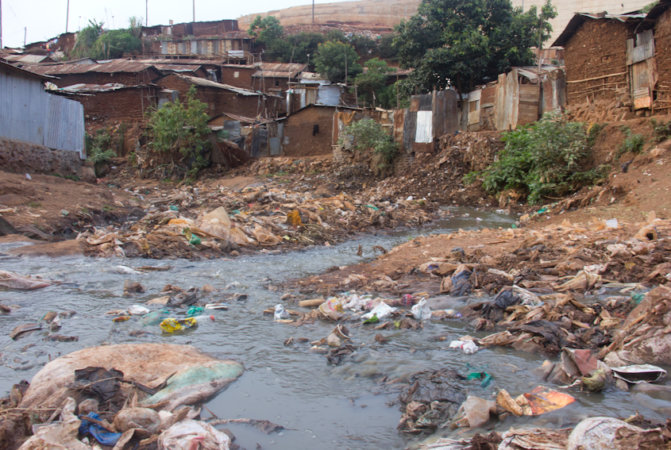 Now, Nairobi River is more of a curse than blessing. The stagnant water acts as a breeding zone for mosquitos and further spreads communicable disease such as typhoid and cholera that have claimed the lives of innocent children. This is a worrying trend since in the year 2012, it is estimated by Data Dregler that twenty eight million people were at risk of contracting malaria in Kenya. This is brought to stark reality by another sobering statistic; one in every twenty malaria caused deaths worldwide, occurred in Kenya.
A community strikes back
However, one community is fighting this and hoping to re-write the tale of Nairobi River, that drains itself into the Indian Ocean. Residents of Kibera, the most populous slum in Africa and one of the biggest in the world, are helping to propel the cleaning of the Nairobi River.
Kibera is home to over five hundred thousand people. Their sheer numbers have meant that shelters are cramped together. Pushing them literally inches next to the river. Thus in the cause of the rainy season, homes and walk paths get flooded with sewage from the river. This has made them look for an avenue to be part and parcel of the ecosystem. Therefore making them agents of change for the betterment of the environment. Faced with environmental pollution that has claimed their numbers they have embraced good environmental practises that are aiding restoration efforts.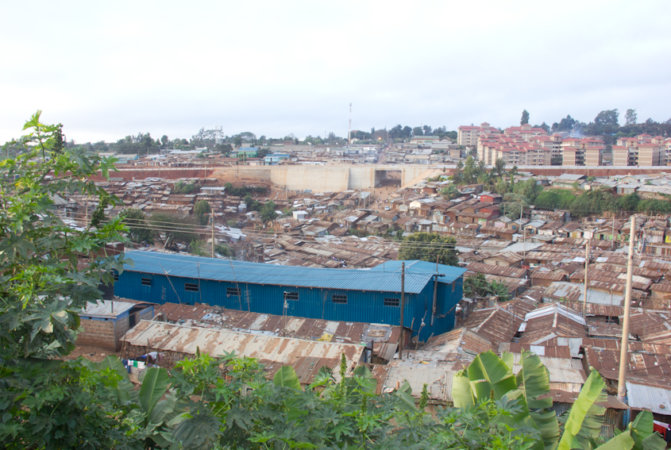 According to Josiah Omotto, the managing Trustee of the Human Rights agency Umande Trust, Kenya's informal settlement stands at sixty per cent of the total population of Nairobi. This roughly translates to two million, four hundred thousand people. Thus if an average person accounts for about three hundred grams of human waste daily, then Nairobi's informal settlement contribute about seven hundred and twenty thousand kilograms of waste every day.
This waste more often than not usually finds its way into the Nairobi River. The residents have partnered with Umande trust, a non-governmental organisation, to build three storey Bio Centres across Kibera. The Bio Centres have been structured skilfully and purposefully to capture and contain human waste later turning them into biogas.
These centres have many advantages. Just to name that they assist in providing a central area where human waste can be gathered, reducing human pollution in the Nairobi River. It has also aided in provision of a secure location for man's sanitary needs.
Raising consciousness for a better tomorrow
Young pupils from across Nairobi have become advocates of the environment. They educate others on the need to clean the river. Their involvements in other communal cleaning campaigns have helped in the physical cleaning of the river. This role is as a result of the National Environment Management Authority (Nema) having environmental essay competitions that have helped drive home the need to be green.
This according to Leah, a resident of Silanga one of the nine villages that make up Kibera, is bearing fruit. She states that the cleaning of the river and waste around one's home and region has become a necessity that is aiding a better-sanitized environment. Through this initiative, she hopes that an amicable solution regarding Kibera's drainage woes will be solved one day in her lifetime.
It is of note that the physical clean up of the river has yielded good outcomes as seen in areas such as the Globe Roundabout and Gikomba. Still, such efforts are usually slowed down by spills from bursting drainage systems across the city.
The restoration of the riverbed faces many challenges
There are numerous plastic products being dumped into the river, most notably plastic paper bags majorly used to carry purchased products from various supermarkets in the region. This is a major setback to the restoration process since plastics are not recyclable. This problem can be addressed if the government enforced laws that govern the use of plastics in the country.
Water hyacinth are is also a great dilemma facing Kenya's water channels. From lake victoria to Nairobi River Dam, the water plant is clogging the system. Built in 1953, Nairobi Dam was a source of fresh water for the growing city. In the late eighties and early nineties it was turned into a water park where sailing, swimming, fishing, diving and picnicking became a source of revenue to clubs around the region.
Currently, the dam is covered to the brim with the weed making it inhabitable for most aquatic ecosystems. It has now become an environmental hazard that is eating into government budget annually. For example, the dam's next clean-up exercise is if approved is set to cost the government, two hundred million Kenya shilling.
However, these challenges can be addressed. More laws can be created and implemented in order to protect the environment for a greener tomorrow. As an example, look at the wildlife policies that are in place. Back in the late eighties and nineties poaching was very rampant. It nearly wiped out our elephant and rhino numbers.
Now twenty years on the elephant and rhino numbers has been on the rise. Even though poaching is still a cause to worry over, harsh laws that govern wildlife have helped curb the vice.
This proves that it is possible to mitigate the upsurge of pollution if proper laws are drafted and implemented. A big challenge still remains, that we need to foster a generation of environmental hero's. This task will be difficult but highly rewarding if seen through, keeping in mind too, the phrase "prevention is better than cure". And as Lao Tzu, the Chinese philosopher, stated, "A journey of a thousand miles begins with a single step. The first steps to a greener Nairobi River have been taken as demonstrated above.
It is still early days in this journey, undoubtedly challenges - new and old - will surface on occasion, but if the current support carries on and grows, Nairobi River will be green.
More information from other sources
The Nairobi River Peace Initiative
About the Nairobi River
Sewage spill slows Nairobi River clean-up
Support independent journalism
Support Cherotich Kenei's further research on this topic in our crowd-funded journalism section!
Support Fairplanet
We depend on readers like you to keep our impact journalism strong.
Fostering global inclusion all our journalists are being paid equally across the planet.
Thanks to a grant each first time user receives 100 coins (10 €) for FREE. Use the code "fairplanet" after clicking the donation button.
Or click the red info icon for instructions.