21.Jul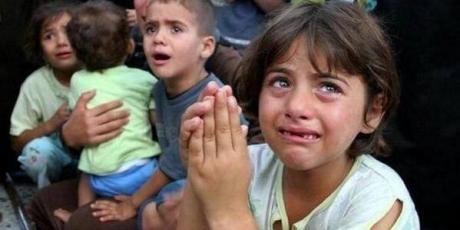 July 21st, 2014
Stop investing in war in Israel/Palestine
Avaaz has launched an urgent petition demanding that governments and business cease investments which fuel the conflict in Israel and Palestine.
"As a new round of violence kicks off in Israel-Palestine and more children are killed, it's not enough just to call for another ceasefire. It's time to take definitive non-violent action to end this decades long nightmare."
"Our governments have failed — while they have talked peace and passed UN resolutions, they and our companies have continued to aid, trade and invest in the violence. The only way to stop this hellish cycle of Israel confiscating Palestinian lands, daily collective punishment of innocent Palestinian families, Hamas firing rockets, and Israel bombing Gaza is to make the economic cost of this conflict too high to bear. "
"We know it works — when EU countries issued guidelines not to fund the illegal Israeli settlements it caused an earthquake in the cabinet, and when citizens successfully persuaded a Dutch pension fund, PGGM, to withdraw, it created a political storm."
"This may not feel like a direct way to stop the current killing, but history tells us that raising the financial cost of oppression can pave a path to peace. Sign the petition on the right and call on 6 key banks, pension funds and businesses to pull out — If we all take smart action now and turn up the heat, they could withdraw, the Israeli economy will take a hit, and we can turn the calculation of the extremists politically profiting from this hell upside down."
"Dutch pension fund, ABP, invests in Israeli banks that help fund the colonisation of Palestine. Massive banks like Barclays invest in suppliers of Israeli arms and other occupation businesses. British G4S provides extensive security equipment used by the Israeli Defence Force in the occupation. France's Veolia operates transport for Israeli settlers illegally living on Palestinian lands. Computer giant Hewlett-Packard supplies sophisticated surveillance to control the movement of Palestinians. And Caterpillar provides bulldozers that are used to demolish Palestinian homes and farms."
"If we can create the biggest global call ever to get these companies to pull out, we will show clearly that the world will no longer be complicit in this bloodshed. The Palestinian people are calling on the world to support this path and progressive Israelis support it too. Let's join them."
18.Jul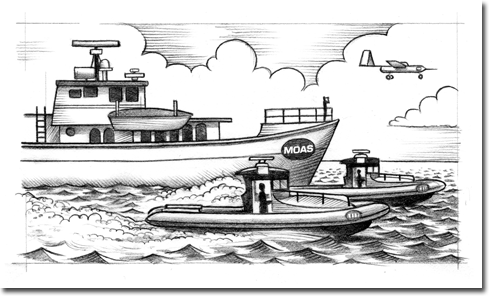 July 18th, 2014
Couple take migrant rescue mission into their own hands
Here at fairplanet we are big believers in the saying, "Be the change that you wish to see in the world."
This week the Guardian broke the remarkable story of two ordinary folk doing just that: making a very real contribution to their vision of a better world.
A married couple based in Malta are thought to be the first people to ever launch a private search and rescue mission for migrants crossing the Mediterranean by boat.
Using a vessel which was previously used for rescue missions in the US, along with drone technology, Regina Catrambone and her husband have engaged a retired head of the Maltese army to lead the mission, which they have called the Migrant Offshore Aid Station.
Catrambone told the Guardian that her first encounter with migrants in the Mediterranean was when she saw a lone winter jacket floating in the sea during a cruise she took to Tunisia. The image stuck in her mind.
But she said the turning point came when she saw Pope Francis on television: "Looking directly into the camera, he said that all those who had the possibility to help the migrants should do so."
Both devout Roman Catholics, Catrambone and her husband purchased the boat shortly afterward, along with two camcopters which they are waiting to have delivered.
While she admits that the Maltese and Italian coastguard rescuers might be sceptical of their efforts at first, she is clear that her team aims to help, rather than compete, with their work.
"These people are desperate," she said. "We just want to make sure that they do not die in desperation."
Although most of us are not in the position to purchase our own rescue equipment, just like Catrambone and her husband we can each find our own ways to help.
Nelson Mandela, whose birthday it would have been today, probably best highlighted the tool which we all have at our disposal: "Education is the most powerful weapon we can use to change the world."
17.Jul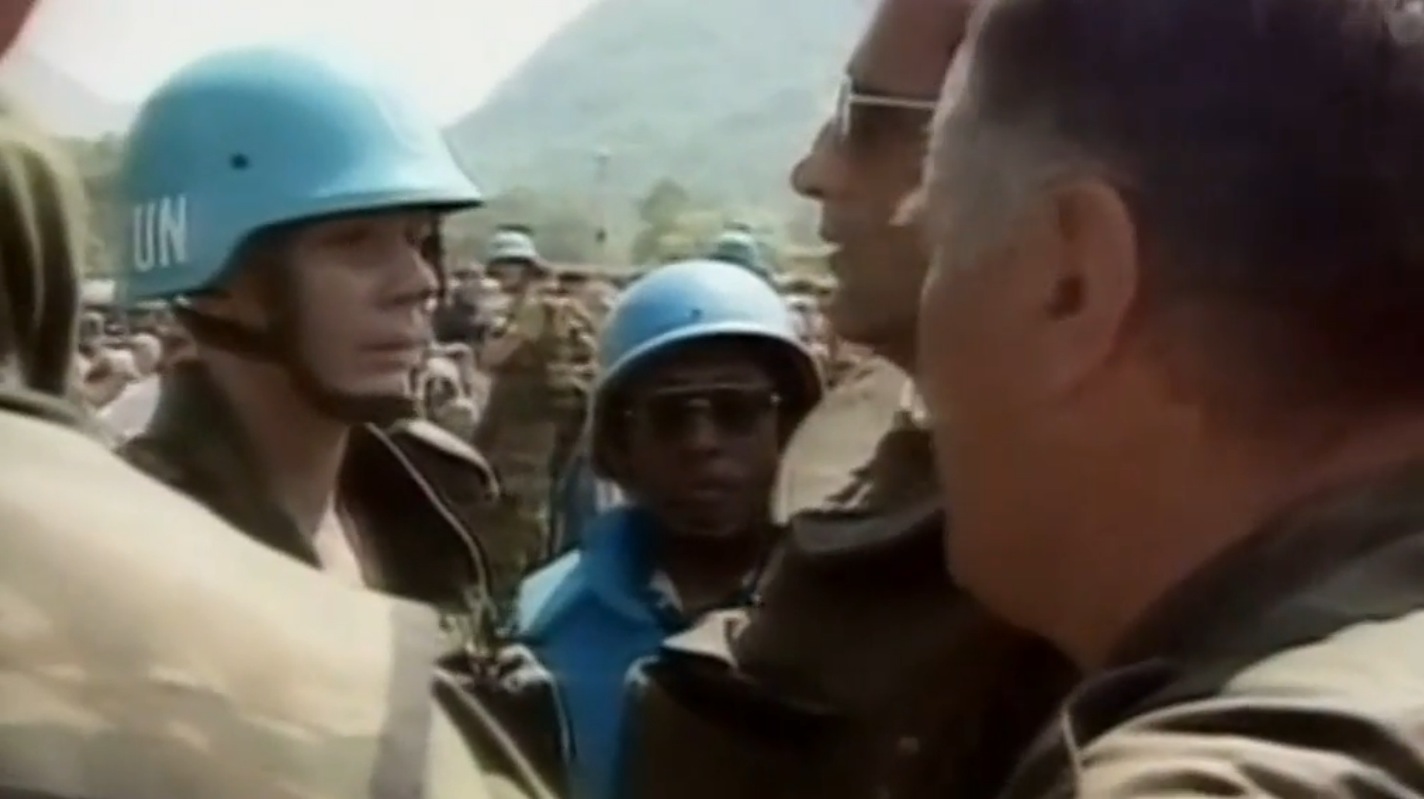 July 17th, 2014
Netherlands liable for 300 Srebrenica deaths
A civil court in the Netherlands has ruled that the country shares the blame for the deaths of 300 Muslim men killed in the 1995 Srebrenica massacre. However, the court said there was no liability for most of the deaths reports Deutsche Welle.
"The ruling from a civil court in The Hague on Wednesday states that the Netherlands is responsible for the deaths of 300 men killed in the Srebrenica massacre that began on July 13, 1995. A group called Mothers of Srebrenica, representing relatives of the victims of the massacre during the Bosnian War, brought the case to the court.
The decision said the Dutch state was liable for the deaths of 300 men who were killed at the hands of Serbian forces led by general Ratko Mladic. These 300 men had sought refuge at a compound controlled by the Dutch UN force in the nearby village of Potocari. When Serbian troops overran Srebrenica, the men were ordered to leave Potocari."
"Dutch forces should have taken into account the possibility that these men would be the victim of genocide and that it can be said with sufficient certainty that, had the Dutch allowed them to stay at the compound, these men would have remained alive," the court said Deutsche Welle reports.
"Srebrenica had been designated as a safe zone for Bosnian Muslims by the United Nations, but Serbian forces ignored this order and advanced on the town. The UN troops surrendered the town without a fight when the Serbians under Mladic advanced, allowing many Muslim men and boys to be taken by the Serbs. Over 8,000 were killed in Srebrenica and buried in unmarked graves."
16.Jul
July 16th, 2014
Disability stigma plagues Africa
A damning report from Human Rights Watch has told of disabled people in Zambia being left out of standard HIV testing, treatment and prevention.
Almost two million disabled people are prevented from accessing the HIV services which have significantly improved in Zambia in recent years.
Social stigma towards people with both physical and mental disabilities means a lack of concern for these marginalised people in a system which has been designed without taking into account their particular needs.
They are also discriminated against by an education system which is failing to adequately teach them about HIV prevention in ways that are accessible to people with special learning needs.
The report, titled 'We are also dying of AIDS' "documents the obstacles faced by people with disabilities in both the community and healthcare settings. These include pervasive stigma and discrimination, lack of access to inclusive HIV prevention education, obstacles to accessing voluntary testing and HIV treatment, and lack of appropriate support for adherence to antiretroviral treatment."
Another issue is the added vulnerability of disabled women to intimate partner violence and sexual assault, leaving them particularly at risk of contracting HIV.
The report documents accounts of disabled Zambians facing negative stereotyping about their ability to marry, have children, and many tell of feeling they are perceived as asexual.
One subject of the report told Human Rights Watch, "When you go for VCT [voluntary HIV counseling and testing], you are looked up and down, people say, 'Why should you be in the line? Who could give you HIV?' They don't expect disabled women to be sexually active."
The stigmatisation of disabled people is by no means limited to Zambia. A 2014 World Press Photo award winner has shone light on the dark trend of abuse of mentally disabled people across Africa.
New Zealander Robin Hammond has spent many years documenting the systematic, sometimes ritualistic mistreatment of these people from all corners of Africa.
See his photography on the World Press Photo website or in the video above.
15.Jul
July 15th, 2014
The True Story of Africa's Billion Dollar Losses
More than six times the amount of development aid to Africa leaves the continent - mainly to the same countries providing that aid.
Although sub-Saharan Africa receives $134bn each year in loans, foreign investment and development aid, research released on Tuesday by a group of UK and Africa-based NGOs suggests that $192bn leaves the region, leaving a $58bn shortfall.
The Guardian reports today that "western countries are using aid to Africa as a smokescreen to hide the sustained looting of the continent as it loses nearly $60bn a year through tax evasion, climate change mitigation, and the flight of profits earned by foreign multinational companies."
The perception that such aid is helping African countries "has facilitated a perverse reality in which the UK and other wealthy governments celebrate their generosity whilst simultaneously assisting their companies to drain Africa's resources", the report claims. It points out that foreign multinational companies siphon $46bn out of sub-Saharan Africa each year, while $35bn is moved from Africa into tax havens around the world annually.
The study, which also notes that African governments spend $21bn a year on debt repayments, calls for the aid system to be overhauled and made more open.
Link: NGO-Study on Healthpovertyaction.org
14.Jul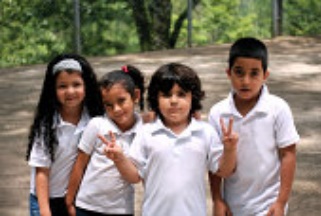 July 14th, 2014
Drug wars force mass exodus of children from Honduras
New York Times reporter Sonia Nazario has written a shameful opinion piece decrying a mass exodus of children fleeing violence fed by drug wars in Honduras.
According to her report, up to 90,000 Central American children on the move are expected to be picked up and placed in US federal custody this year, a massive rise from the 6,800 detained just three years ago.
So what has caused this meteoric and deeply tragic rise? Nazario found that, rather than leaving their home countries for better opportunities in the US, the majority of the children leaving today are trying to escape violence.
And many of them are making the dangerous trip north completely alone, following parents who went ahead and never came back, or leaving behind family members who can no longer protect them from a culture of violence instilled by narcotic gangs.
"As a result, what the United States is seeing on its borders now is not an immigration crisis. It is a refugee crisis," she reports.
The increased violence is directly influenced by the movement of drug cartels across Central America.
"As the United States and Colombia spent billions of dollars to disrupt the movement of drugs up the Caribbean corridor, traffickers rerouted inland through Honduras, and 79 percent of cocaine-smuggling flights bound for the United States now pass through there."
Nazario's report tells of Honduran schools controlled by ringleader students wielding guns, threatening students who refuse to play along with the gangs.
Many students, still very much children, quit school either because of the immense pressure doled out by these all-powerful school-ruling bullies or because they cannot afford the fees imposed by the narco gangs. Parents pull their kids out of school for fear of having them kidnapped and enlisted.
"A majority of small businesses in Nueva Suyapa have shuttered because of extortion demands, while churches have doubled in number in the past decade, as people pray for salvation from what they see as the plague predicted in the Bible," writes Nazario. "Taxis and homes have signs on them asking God for mercy."
The damning report makes a series of recommendations for solving this crisis, beginning with stemming the demand for narcotics in the US which fuels this violence.
11.Jul
July 11th, 2014
Refugees occupy Berlin's TV Tower
"Please translate for us," a refugee calls out to police as a group of protesters are split up, "since we are not allowed to learn German."
It's the perfect moment of irony in what has been more than a year of protests against the harsh conditions dictating the lives of Germany's refugees who wait in limbo, often for years, to hear whether they will be allowed to stay or sent back home.
This Wednesday 37 refugees occupied the viewing deck of Berlin's iconic TV Tower in an attempt to make themselves more visible to the public.
In a joint statement they explained: "Everywhere we are turned away. Everyone has the same answer for us. Everyone refers us to the next person. No one listens to us. No one wants to be responsible for us refugees and the inhumane laws under which we live."
This protest is only the most recent of many around the country and particularly in Berlin, where until April a group of refugees lived in a public park in Kreuzberg for more than a year.
In recent weeks attempts to evict refugees from an empty school in the same neighbourhood were met with some members of the group threatening to jump from the rooftop.
The police responded with a 900-strong force, blocking off the street for more than a week while they tried to persuade the 30-40 refugees to move voluntarily, as they did not have the power to use force. Social media was full of reports of police brutality, including claims that some refugees had bananas thrown at them by police - a particularly malicious act at the beginning of Ramadan for which many of the group were fasting.
Many of the refugees up the TV tower, as well as those who lived on Oranienplatz in Kreuzberg and those who are still occupying the Gerhart Hauptmann Schule, have been waiting to hear the result of their asylum applications for three, four or even five years.
As if the incredibly long waiting time for processing applications is not enough, refugees are not allowed to work for the first nine months after they arrive, cannot attend school to prepare themselves for a new life or leave the area to which their application has been assigned, and it is the lack of these rights which have brought them out in protest. Many of the refugees who lived at Oranienplatz had marched out of their designated areas in Bavaria, hundreds of kilometres away, protesting their inability to travel.
The issue is symptomatic of a failed EU migration system which was a key issue of the EU elections in May and continues to remain unsolved.
The refugees in Berlin have been heartily supported by a community of locals who regularly gather in support of better rights for refugees waiting to hear their fate.
Their catch cry: "You can't evict a movement."
"Everywhere we are turned away. Everyone has the same answer for us. Everyone refers us to the next person. No one listens to us. No one wants to be responsible for us refugees and the inhumane laws under which we live." - See more at: http://www.exberliner.com/blogs/the-blog/refugees-occupy-the-tv-tower/#sthash.pFd55Qh3.dpuf
"Everywhere we are turned away. Everyone has the same answer for us. Everyone refers us to the next person. No one listens to us. No one wants to be responsible for us refugees and the inhumane laws under which we live." - See more at: http://www.exberliner.com/blogs/the-blog/refugees-occupy-the-tv-tower/#sthash.pFd55Qh3.dpuf
"Everywhere we are turned away. Everyone has the same answer for us. Everyone refers us to the next person. No one listens to us. No one wants to be responsible for us refugees and the inhumane laws under which we live." - See more at: http://www.exberliner.com/blogs/the-blog/refugees-occupy-the-tv-tower/#sthash.pFd55Qh3.dpuf
10.Jul
July 10th, 2014
16,744 Shoes: Pillar of Shame
On the 10th of July, 19 years ago, the World Community betrayed humanity, passively watching the massacre of 8,372 lives in Srebrenica.
Referring to this date, 4 years ago Phillip Ruch's Centre for Political Beauty built a monument of 16,744 worn shoes, each pair representing a victim of Europe's worst massacre since World War II, at Berlin's Brandenburger Tor.
The political installation, accompanied by a fundraising, shall pave the way to raise a "Pillar of Shame" in the hills above Srebrenica referring to the United Nations and international leaders as the ones most responsible for failing to prevent the mass killings.
AP reported in 2010:
"The German activist describes his project as a "warning for all future U.N. employees never again just to stand by when genocide unfolds" — alluding to the failure of U.N. peacekeepers to protect the Srebrenica victims during the Bosnian war.
On July 11, 1995, more than 8,000 Bosnian Muslim men and youths were slaughtered by Bosnian Serb troops in an enclave supposedly protected by U.N. peacekeepers.
The United Nations had declared Serb-besieged Srebrenica, some 90 km northeast of Sarajevo, a protected area for civilians. But the few hundred Dutch Blue Helmets on the ground were left short of credible weaponry or a clear mandate to protect the town.
Srebrenica fell to the Serbs after senior U.N. commanders dithered on Dutch requests for air strikes and its overwhelmingly Bosnian Muslim residents swarmed the U.N. military base, seeking refuge. But the peacekeepers allowed the Serbs to take away the townspeople when Gen. Ratko Mladic, their leader, said they would not be harmed."
This project is further documented here: http://www.politicalbeauty.de/pillar.html
09.Jul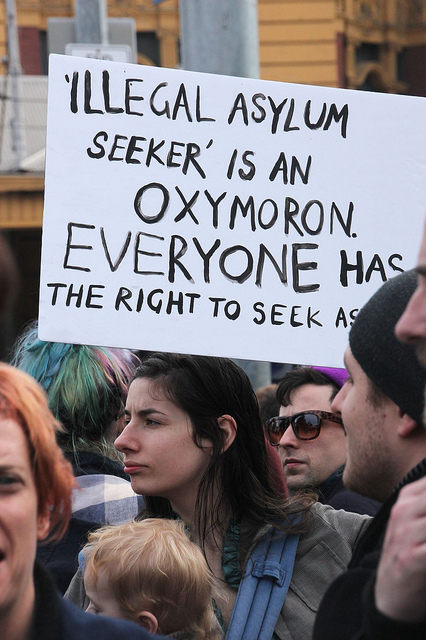 July 09th, 2014
Australia 'sends the persecuted back to the persecutors'
By returning 41 Tamil asylum seekers to Sri Lankan military in the weekend, Australia has violated international law and is in breach of the international refugee convention.
UN refugee agency UNHCR expressed grave concerns about the handover which took place at sea near Sri Lanka on Sunday.
The exchange did not follow due process and left the group fearing torture or death at the hands of Sri Lanklan Police in a country where Tamils are persecuted.
The move, which is part of a severe crackdown on asylum seekers arriving by boat, known as Operation Sovereign Borders, has been widely condemned by human rights groups, as well as a group of 53 legal scholars from 17 Australian universities.
In a joint statement the academics said that the current policy of quickly screening each asylum seeker's application via teleconference at sea did not "comply with the minimum standards on refugee determination under international law".
Aside from the lack of due process, the handover is particularly inhumane as it leaves the lives of these 41 Tamils in the balance.
Leader of the Australian Greens party summed up the situation best when she described the inhumane handover as "sending the persecuted back to the persecutors".
08.Jul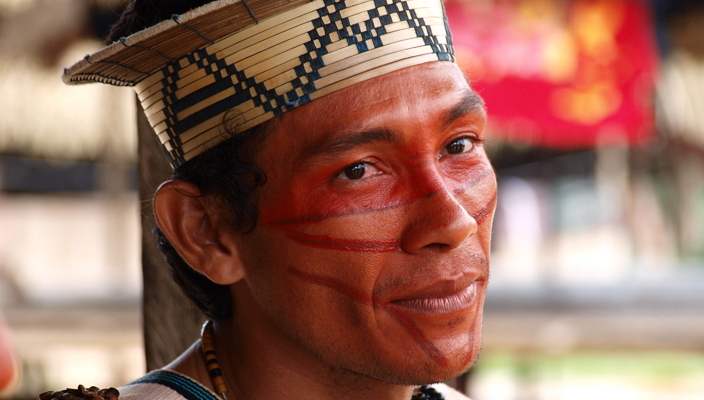 July 08th, 2014
Brazilian activist Benki Piyãko receives Human Rights Award
While the world focusses on the World Cup, losing interest in the social unrest in Brazil, another struggle in Brazil's rain forrest is ongoing: The indigenous people of Ashaninka are peacefully fighting to preserve their habitat.
The city of Weimar chose Benki Piyãko out of eleven propositions from all over the world to receive the Human Rights Award 2013.
Benki Piyãko, who is leading the people of Ashaninka in the Brazilian state Acre got involved with a peaceful living together of indigenous peoples and non-indigenous neighbors in Brazil. His nomination was suggested by the Society of threatened peoples.
Brazil officially recognized the Ashaninka people's territory in 1980, and self-administration was vested to their community.
Consequently following the principles of a peaceful living and coexistence between humans and nature, the Ashaninka pursue their tradition of cultivating the rain forrest in a sustainable way.
To pass this critical endeavor on to their descendants, Benki Piyãko founded the education and training centre Yoreke Ãtame ("Knowledge of the Primeval Forrest"). The centre teaches indigenous and non-indigenous adolescent people how to live with and within the rain forrest, and brings different ethnic groups together.
However, their entirely peaceful way of living and activities brought the Ashaninka around Benki Piyãko a lot of enemies. The wood mafia and drug smugglers assaulted the community several times and threatened to kill Benki Piyãko, if they tried protecting the rain forrest from felling.
While industrial as well as the so called green revolution keep progressing and thereby destroying traditional knowledge about nature and farming, people like Benki Piyãko are not only important for the survival of indigenous people, but become crucial to preserve this knowledge.