31.Jul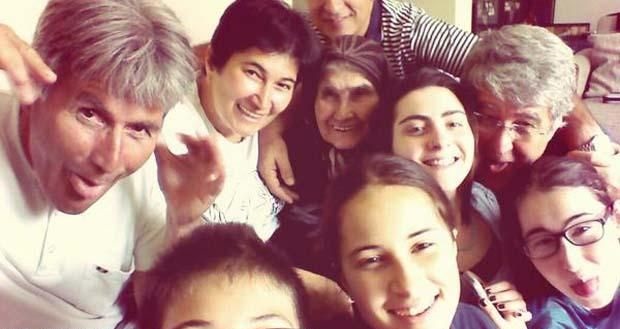 July 31st, 2014
The laughter of women
Alaa Al Aswany, the author of the novel "The Yacoubian Building", recently wrote an article in the New York Times, describing how sexual harassment became epidemic in Egyptian society. As in several countries with a muslim majority it wasn't always like that.
"In 1899, the Egyptian thinker Qasim Amin published "The Liberation of Women," a book that ushered in Egyptian women's struggle for labor and education rights" he says. Eventually, in 1933 the first Egyptian woman graduated from university, in 1956, women gained the vote, and six years later, Hikmat Abu Zayd became the first woman to serve in the cabinet.
Due to the reforms of Mustafa Kemal Atatürk, Turkey, has a similar record of women's rights and its path of modernization. In 1930, Turkish women gained the right to participate in municipal and, in 1934, national elections – eleven years earlier than in France. In 1936, Sabiha Gökcen was the world's first female fighter pilot, and the first Turkish female combat pilot, aged 23. Atatürk said at that time: "If a society does not wage a common struggle to attain a common goal with its women and men, scientifically there is no way for it to get civilized or developed."
For most of the 20th century, women succeeded to maintain these civil improvements. In Egypt this has radically changed. According to Al Aswany two conflicting views determine the situation of women: "a reactionary one shared by the fundamentalists and the supporters of authoritarian government, which reduces women to no more than their bodies, and a progressive one held by the revolutionaries, who regard women as deserving full civil rights. The revolution looks to the future, whereas the reactionary outlook harks back to the past."
And Turkey? The ruling AKP's moderate Islamist politics are steadily transforming the country founded upon secularism. Prior to Turkish residential elections, Bülent Arinc, Deputy Prime Minister and founding member of AKP, said a few days ago: A woman "should not laugh loudly in front of all the world and should preserve her decency at all times."
An instant anti-campaign in social media occurred with thousands of laughing women (and men) posting selfies. Resistance to moral intervention, to the undermining of civil rights and to the erosion of secularism is alive, particularly since last year's civil uprise of the Gezi movement.
As it seems the state of women's civil rights is a permanent indicator whether a society becomes reactionary or civilized. A laughter of a woman is always a good sign!
30.Jul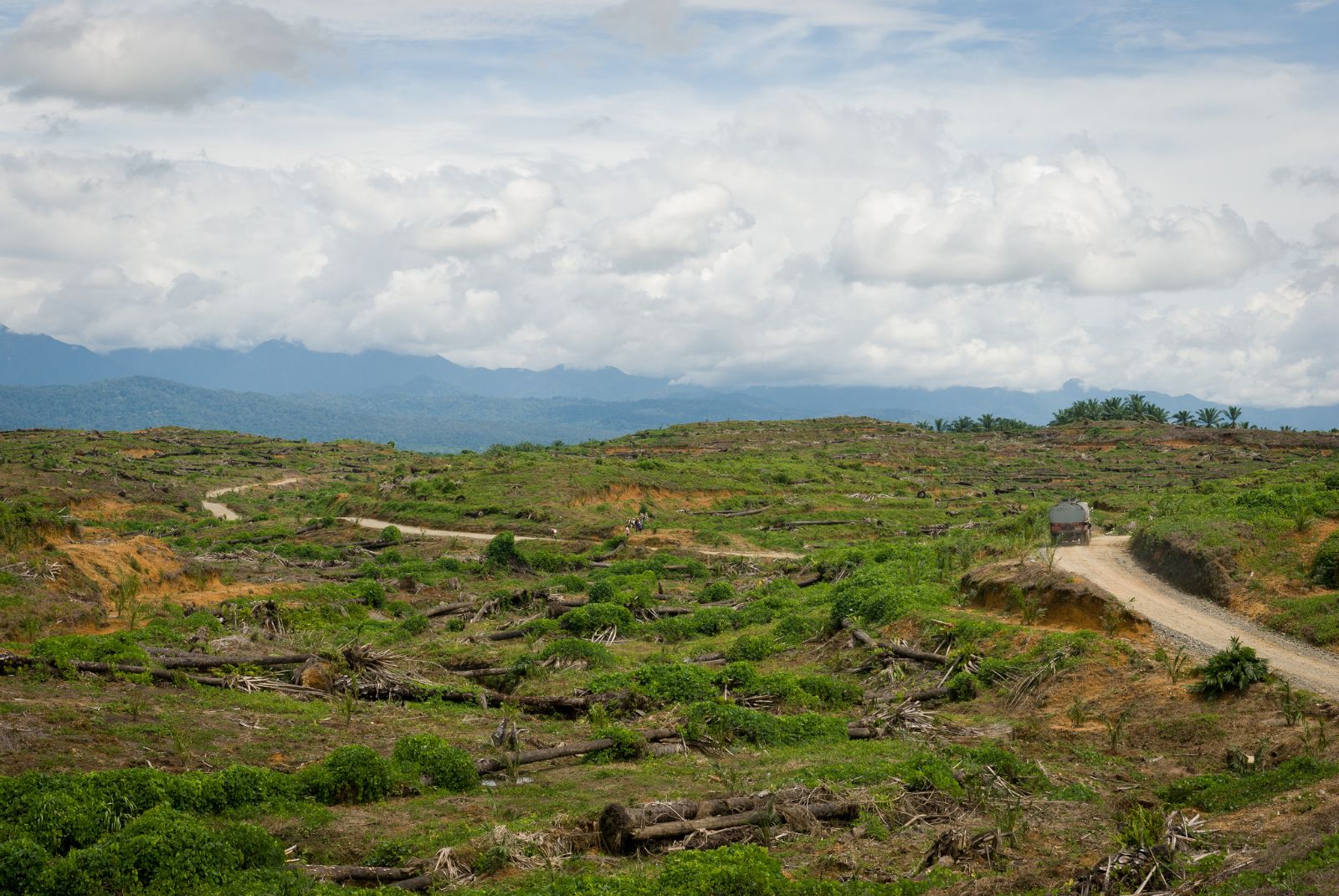 July 30th, 2014
Leaked World Bank report proposes relaxation of safeguards for people and environment
Devastating plans for the World Bank to roll back some of the tougher conditions for lending funds to developing countries have been revealed in a leaked report.
The leaked draft containing the Bank's 'safeguard policies' documents a proposed relaxation of the conditions which exist to protect the environment, indigenous peoples and the poor from the negative effects of projects to which the World Bank lends up to 50 billion USD every year.
Under these relaxed safeguards, the report shows that indigenous peoples will no longer have consultation on projects such as palm oil plantations in the Sumatra (seen in the image above) and large dams which will take place on ancestral land.
Logging and mining will be allowed in ecologically sensitive areas under the new "light touch" rules, which would allow states free access to areas of biodiversity which are currently protected.
World Bank watchdog groups including the Bank Information Centre (BIC), the Ulu Foundation and the International Trade Union Confederation have condemned the proposed changes, saying they are an attempt to avoid accountability, leaving governments and businesses to operate at their own discretion.
"The Bank and its member countries have an obligation to ensure that investments in dams, roads, or other projects don't result in forced evictions, labor abuses, or other rights violations. Instead, the Bank appears to be moving to a blank-check system, where communities will have no clear protections and little ability to seek recourse if their rights are violated," said Bank on Human Rights coalition coordinator Gretchen Gordon.
The draft report containing the proposed policy changes will be discussed by the World Bank's board next week, where a vote on whether to make the report public for discussion is likely to take place.
29.Jul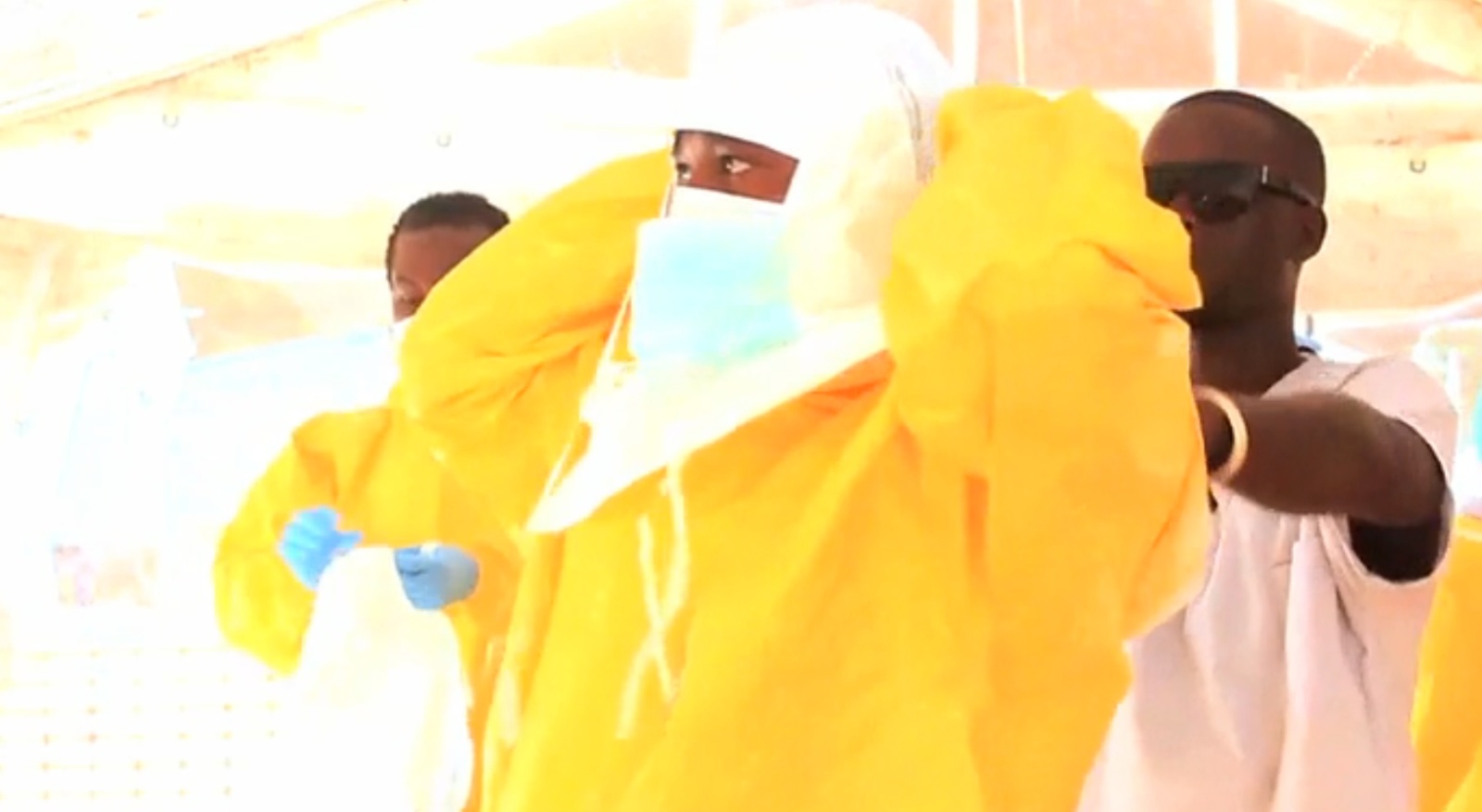 July 29th, 2014
A man collapses at an international airport...
...you may think this is a scene from the plague movie "Contagion". Actually, it has happened now in Lagos. Nigerian health authorities are racing to stop the spread of the flesh-eating Ebola virus after the man sick with one of the world's deadliest diseases carried it by plane to Lagos, Africa's largest city with 21 million people.
The worst Ebola outbreak ever is paralyzing West Africa. It's so severe that yesterday, Liberia closed its borders. The World Health Organization says at least 660 people have died in recent months from what has become the deadliest outbreak ever of Ebola. Most of deaths have been in Guinea, where the outbreak is believed to have begun - followed by Sierra Leone and Liberia.
Ebola is a form of hemorrhagic fever which is deadly in up to 90 percent of cases. Symptoms include fever and sore throat, which escalates to vomiting, diarrhea, as well as internal and external bleeding. There is no known cure for the highly-contagious disease, although early detection and treatment improves a patient's chance of survival.
VICE News visited Liberia, where many feel the new outbreak began, borne from the bushmeat markets of Lofa. Western scientists feel that the consumption and preparation of meat from monkeys, fruit bats, and other forest animals is behind the transmission of Ebola, and possibly a new supervirus, which if left uncontrolled could kill a third of the world's population.
Watch the reportage here.
28.Jul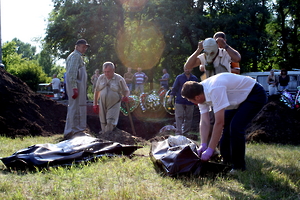 July 28th, 2014
Mass grave discovered in Eastern Ukraine
A mass grave has been uncovered in Eastern Ukraine.
According to a first-hand account from Yulia Gorbunova at Human Rights Watch, Ukrainian authorities were exhuming a mass grave in Sloviansk late last week, a city which had been under the control of anti-Ukrainian government insurgents from April until July 5.
It is too soon to say whether the bodies - 15 is a conservative estimate - were buried there as part of a crime.
The bodies could have been brought from the local morgue as there had been no electricity in parts of the city at the time of the dumping, making refrigeration impossible.
But when local women asked the insurgents who was being buried at the site, they said the bodies were unidentified.
When Gorbunova visited the site, one woman was there looking for the body of her husband who had called her in May to say a final goodbye after insurgents told him they would be executing him 15 minutes later. She had identified his body in a morgue but the insurgents had refused to hand over his body.
Another man was looking for the body of a friend who had gone missing after being picked off the street by insurgents after getting into a fight.
She reports: "It's understandable why these local residents wonder if the grave contains victims who died at the hands of insurgents. Insurgents systematically kidnapped, abducted, beat, and sometimes tortured activists and residents they suspected of supporting the Ukrainian government."
"Human Rights Watch, among others documented this pattern in Sloviansk and in other cities."
"We also documented the killing of a local politician whose body turned up in Sloviansk two days after he had been last seen in the custody of armed insurgents. Documents discovered by foreign journalists also indicated that insurgents carried out summary trials and executions in Sloviansk."
A full investigation must be undertaken to determine whose bodies were buried in the mass grave, and how they came to be there.
Furthermore, the abuses carried out by the insurgents while Sloviansk was under their control, must be investigated as well.
Image: Human Rights Watch
25.Jul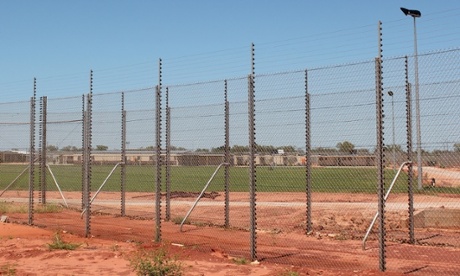 July 25th, 2014
Asylum seekers' month-long wait at sea is over, but what now?
The Australian government has taken a u-turn on its harsh immigration policies by accepting a boat of Tamil asylum seekers on to its shores - the first boat to be accepted in more than six months.
The 157 migrants have been waiting at sea for nearly a month for a decision, in which time Australia's own High Court ruled against the government's shameful asylum seeker policy which bans any migrants arriving by boat from being accepted on to Australian soil.
By preventing asylum seekers from reaching Australian territory, rights groups believe the Australian government is dodging their obligations under international law, which require that all asylum seekers which arrive must be given due process.
This morning the Guardian broke the story, reporting that the boat is currently headed towards the Cocos Islands, an Australian territory.
The Department of Immigration is then planning to move the group to the Curtin asylum detention centre in Western Australia (pictured), rather than the offshore processing centre on Christmas Island where previous groups have been held.
The founder and CEO of the Asylum Seeker Resource Centre in Australia, which supports asylum seekers makes lives in Australia but also with policy lobbying and legal aid, was quick to put the decision into perspective on Twitter.
Kon Karapanagiotidis tweeted: "After 27 days at sea I'm relieved the 157 are not going to be refouled but being sent to remote hellhole at Curtin just continues suffering.
"I've been to Curtin Detention Centre as a lawyer: remote, brutal, soul crushing & heartbreaking place to visit let alone be locked up there."
Social media has been alive with disdain for Australia's hard-line immigration policies which were a key component of Tony Abbott's successful 2013 election campaign.
When news broke earlier this month that the Department of Immigration was considering using short teleconference interviews to assess the applications of Tamil asylum seekers still at sea, Australians across the globe were eager to make their voices heard.
Australian writer Benjamin Law tweeted: "Time it takes to assess asylum seekers at sea: short teleconference. Time it takes to assess asylum seekers in malarial hellhole: forever."
Sadly migrant boat voyages to Australia are part of a massive global trend of nations failing to protect asylums seekers in the way international law demands of them.
What sets Australia's policies apart is that they have actually legalised their ability to send asylum seekers back towards their persecutors, or even to other nations (Nauru, Papua New Guinea and, most recently, Cambodia) who have fewer resources and poorer human rights records.
This High Court turnaround is significant, and we only hope this could be the beginning of a return to more humane policies in line with international human rights law.
Image credit: Amnesty International
24.Jul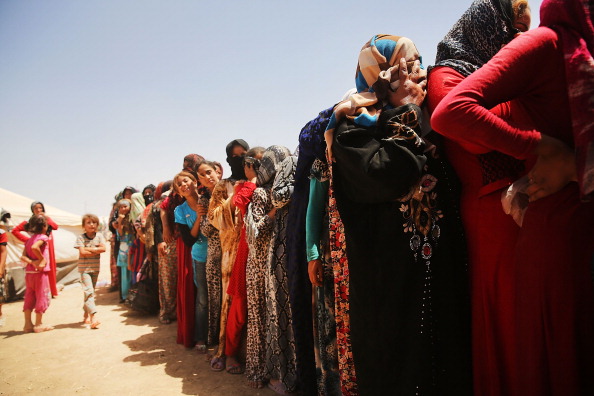 July 24th, 2014
Isis, earlier pledging to free also Palestine, orders all women and girls in Mosul to undergo female genital mutilation
A few weeks ago in June, before the recent Israeli-Palestinian conflict escalated, the Islamist militants of ISIS have declared an Islamic "caliphate" in an area straddling Iraq and Syria, which they now call IS, Islamic State, claiming the rule over all Muslims.
A jihadist member of IS referred in a video message to end Sykes-Picot - the agreement between France and Britain that divided up the Ottoman empire territories after the first world war - and said: "This is not the first border we will break, we will break other borders." Later on he swears and urges all jihadists to free Palestine.
Meanwhile, IS issued a "fatwa" to leave no doubt what kind of order they are intending to install in their controlled area. According the the United Nations the militant group has ordered all girls and women in and around Iraq's northern city of Mosul to undergo female genital mutilation, reports the Guardian
The "fatwa" issued by the Sunni Muslim fighters would potentially affect 4 million women and girls, the UN resident and humanitarian coordinator in Iraq, Jacqueline Badcock, told reporters in Geneva by videolink from Irbil.
"This is something very new for Iraq, particularly in this area, and is of grave concern and does need to be addressed. This is not the will of Iraqi people, or the women of Iraq in these vulnerable areas covered by the terrorists" she said.
23.Jul
July 23rd, 2014
Russia's crackdown on NGOs intensifies
Five more independent groups have been branded "foreign agents" by the Russian government, a term which is commonly understood to mean spies and traitors in Russia.
This week the announcement was made, that four human rights groups and one environmental organisation would be added to the growing list of groups to be branded in this way, threatening free expression and association in Russia.
According to Human Rights Watch, the Justice Ministry's decision was made because the groups participated in "political activities" while receiving foreign funding.
The groups are Memorial Human Rights Center, Public Verdict Foundation, JURIX and AGORA, which are all known for providing legal aid to victims of discrimination, including "victims of political manipulation of justice; persecuted civil society activists and peaceful protesters; lesbian, gay, bisexual, and transgender (LGBT) activists; and victims of police violence", says Human Rights Watch.
The fifth group is Women's Council Environmental Protection (Ecozaschita-Zhensovet) in Kaliningrad.
The foreign agents law came into action in 2012, and many NGOs were forced to cease operations while they waited to be registered, including indigenous people's organisation RAIPON which waited six months to be registered, seriously compromising their ability to serve those they work for.
Earlier this month Russian media were reporting that there were plans to further toughen the law by banning public official from having contact with groups labelled as foreign agents. This would break any connection between the groups and policy makers - a dangerous move for Russian civil society.
Image details: On the night before the "foreign agents" law came into force, unknown individuals sprayed graffiti reading, "Foreign Agent! ♥ USA" on the buildings hosting the offices of three prominent NGOs in Moscow, including Memorial. © 2012 Yulia Klimova/Memorial
22.Jul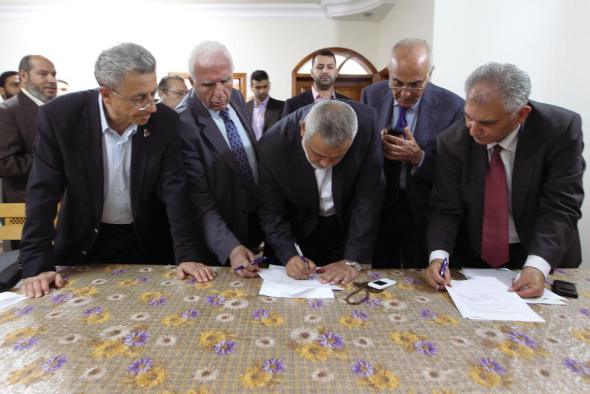 July 22nd, 2014
How the West Chose War in Gaza
While "Hamas fires rockets at Israeli cities and Israel follows up its extensive airstrikes with a ground operation in the Gaza Strip, the most immediate cause of this latest war has been ignored: Israel and much of the international community placed a prohibitive set of obstacles in the way of the Palestinian "national consensus" government that was formed in early June" says Nathan Thrall, a senior analyst at the International Crisis Group covering Gaza, Israel, Jordan and the West Bank, in the New York Times.
A key condition to manifest this government would have been to ease border restrictions by Egypt. According to Thrall here's why:
"The government of was created largely because of Hamas's desperation and isolation. The group's alliance with Syria and Iran was in shambles. Its affiliation with the Muslim Brotherhood in Egypt became a liability after a July 2013 coup replaced an ally, President Mohamed Morsi, with a bitter adversary, Gen. Abdel Fattah el-Sisi. Hamas's coffers dried up as General Sisi closed the tunnels that had brought to Gaza the goods and tax revenues on which it depended.
Seeing a region swept by popular protests against leaders who couldn't provide for their citizens' basic needs, Hamas opted to give up official control of Gaza rather than risk being overthrown. Despite having won the last elections, in 2006, Hamas decided to transfer formal authority to the Palestinian leadership in Ramallah. That decision led to a reconciliation agreement between Hamas and the Palestine Liberation Organization, on terms set almost entirely by the P.L.O. chairman and Palestinian Authority president, Mahmoud Abbas.
Israel immediately sought to undermine the reconciliation agreement by preventing Hamas leaders and Gaza residents from obtaining the two most essential benefits of the deal: the payment of salaries to 43,000 civil servants who worked for the Hamas government and continue to administer Gaza under the new one, and the easing of the suffocating border closures imposed by Israel and Egypt that bar most Gazans' passage to the outside world.
Yet, in many ways, the reconciliation government could have served Israel's interests. It offered Hamas's political adversaries a foothold in Gaza; it was formed without a single Hamas member; it retained the same Ramallah-based prime minister, deputy prime ministers, finance minister and foreign minister; and, most important, it pledged to comply with the three conditions for Western aid long demanded by America and its European allies: nonviolence, adherence to past agreements and recognition of Israel.
Israel strongly opposed American recognition of the new government, however, and sought to isolate it internationally, seeing any small step toward Palestinian unity as a threat. Israel's security establishment objects to the strengthening of West Bank-Gaza ties, lest Hamas raise its head in the West Bank. And Israelis who oppose a two-state solution understand that a unified Palestinian leadership is a prerequisite for any lasting peace.
Still, despite its opposition to the reconciliation agreement, Israel continued to transfer the tax revenues it collects on the Palestinian Authority's behalf, and to work closely with the new government, especially on security cooperation.
But the key issues of paying Gaza's civil servants and opening the border with Egypt were left to fester. The new government's ostensible supporters, especially the United States and Europe, could have pushed Egypt to ease border restrictions, thereby demonstrating to Gazans that Hamas rule had been the cause of their isolation and impoverishment. But they did not.
Instead, after Hamas transferred authority to a government of pro-Western technocrats, life in Gaza became worse."
21.Jul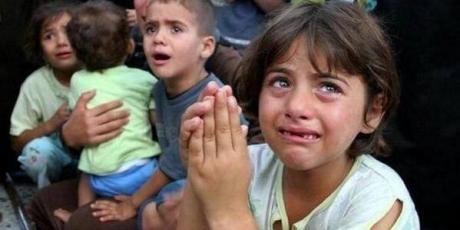 July 21st, 2014
Stop investing in war in Israel/Palestine
Avaaz has launched an urgent petition demanding that governments and business cease investments which fuel the conflict in Israel and Palestine.
"As a new round of violence kicks off in Israel-Palestine and more children are killed, it's not enough just to call for another ceasefire. It's time to take definitive non-violent action to end this decades long nightmare."
"Our governments have failed -- while they have talked peace and passed UN resolutions, they and our companies have continued to aid, trade and invest in the violence. The only way to stop this hellish cycle of Israel confiscating Palestinian lands, daily collective punishment of innocent Palestinian families, Hamas firing rockets, and Israel bombing Gaza is to make the economic cost of this conflict too high to bear. "
"We know it works -- when EU countries issued guidelines not to fund the illegal Israeli settlements it caused an earthquake in the cabinet, and when citizens successfully persuaded a Dutch pension fund, PGGM, to withdraw, it created a political storm."
"This may not feel like a direct way to stop the current killing, but history tells us that raising the financial cost of oppression can pave a path to peace. Sign the petition on the right and call on 6 key banks, pension funds and businesses to pull out -- If we all take smart action now and turn up the heat, they could withdraw, the Israeli economy will take a hit, and we can turn the calculation of the extremists politically profiting from this hell upside down."
"Dutch pension fund, ABP, invests in Israeli banks that help fund the colonisation of Palestine. Massive banks like Barclays invest in suppliers of Israeli arms and other occupation businesses. British G4S provides extensive security equipment used by the Israeli Defence Force in the occupation. France's Veolia operates transport for Israeli settlers illegally living on Palestinian lands. Computer giant Hewlett-Packard supplies sophisticated surveillance to control the movement of Palestinians. And Caterpillar provides bulldozers that are used to demolish Palestinian homes and farms."
"If we can create the biggest global call ever to get these companies to pull out, we will show clearly that the world will no longer be complicit in this bloodshed. The Palestinian people are calling on the world to support this path and progressive Israelis support it too. Let's join them."
18.Jul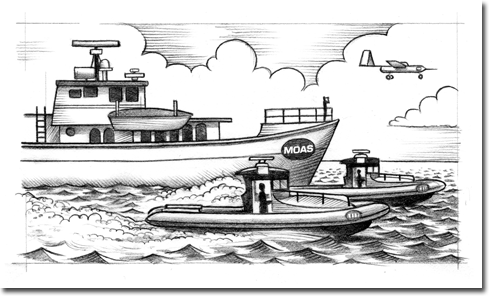 July 18th, 2014
Couple take migrant rescue mission into their own hands
Here at fairplanet we are big believers in the saying, "Be the change that you wish to see in the world."
This week the Guardian broke the remarkable story of two ordinary folk doing just that: making a very real contribution to their vision of a better world.
A married couple based in Malta are thought to be the first people to ever launch a private search and rescue mission for migrants crossing the Mediterranean by boat.
Using a vessel which was previously used for rescue missions in the US, along with drone technology, Regina Catrambone and her husband have engaged a retired head of the Maltese army to lead the mission, which they have called the Migrant Offshore Aid Station.
Catrambone told the Guardian that her first encounter with migrants in the Mediterranean was when she saw a lone winter jacket floating in the sea during a cruise she took to Tunisia. The image stuck in her mind.
But she said the turning point came when she saw Pope Francis on television: "Looking directly into the camera, he said that all those who had the possibility to help the migrants should do so."
Both devout Roman Catholics, Catrambone and her husband purchased the boat shortly afterward, along with two camcopters which they are waiting to have delivered.
While she admits that the Maltese and Italian coastguard rescuers might be sceptical of their efforts at first, she is clear that her team aims to help, rather than compete, with their work.
"These people are desperate," she said. "We just want to make sure that they do not die in desperation."
Although most of us are not in the position to purchase our own rescue equipment, just like Catrambone and her husband we can each find our own ways to help.
Nelson Mandela, whose birthday it would have been today, probably best highlighted the tool which we all have at our disposal: "Education is the most powerful weapon we can use to change the world."