15.Jul
July 15th, 2014
The True Story of Africa's Billion Dollar Losses
More than six times the amount of development aid to Africa leaves the continent – mainly to the same countries providing that aid.
Although sub-Saharan Africa receives $134bn each year in loans, foreign investment and development aid, research released on Tuesday by a group of UK and Africa-based NGOs suggests that $192bn leaves the region, leaving a $58bn shortfall.
The Guardian reports today that "western countries are using aid to Africa as a smokescreen to hide the sustained looting of the continent as it loses nearly $60bn a year through tax evasion, climate change mitigation, and the flight of profits earned by foreign multinational companies."
The perception that such aid is helping African countries "has facilitated a perverse reality in which the UK and other wealthy governments celebrate their generosity whilst simultaneously assisting their companies to drain Africa's resources", the report claims. It points out that foreign multinational companies siphon $46bn out of sub-Saharan Africa each year, while $35bn is moved from Africa into tax havens around the world annually.
The study, which also notes that African governments spend $21bn a year on debt repayments, calls for the aid system to be overhauled and made more open.
Link: NGO-Study on Healthpovertyaction.org
14.Jul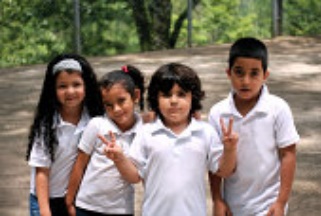 July 14th, 2014
Drug wars force mass exodus of children from Honduras
New York Times reporter Sonia Nazario has written a shameful opinion piece decrying a mass exodus of children fleeing violence fed by drug wars in Honduras.
According to her report, up to 90,000 Central American children on the move are expected to be picked up and placed in US federal custody this year, a massive rise from the 6,800 detained just three years ago.
So what has caused this meteoric and deeply tragic rise? Nazario found that, rather than leaving their home countries for better opportunities in the US, the majority of the children leaving today are trying to escape violence.
And many of them are making the dangerous trip north completely alone, following parents who went ahead and never came back, or leaving behind family members who can no longer protect them from a culture of violence instilled by narcotic gangs.
"As a result, what the United States is seeing on its borders now is not an immigration crisis. It is a refugee crisis," she reports.
The increased violence is directly influenced by the movement of drug cartels across Central America.
"As the United States and Colombia spent billions of dollars to disrupt the movement of drugs up the Caribbean corridor, traffickers rerouted inland through Honduras, and 79 percent of cocaine-smuggling flights bound for the United States now pass through there."
Nazario's report tells of Honduran schools controlled by ringleader students wielding guns, threatening students who refuse to play along with the gangs.
Many students, still very much children, quit school either because of the immense pressure doled out by these all-powerful school-ruling bullies or because they cannot afford the fees imposed by the narco gangs. Parents pull their kids out of school for fear of having them kidnapped and enlisted.
"A majority of small businesses in Nueva Suyapa have shuttered because of extortion demands, while churches have doubled in number in the past decade, as people pray for salvation from what they see as the plague predicted in the Bible," writes Nazario. "Taxis and homes have signs on them asking God for mercy."
The damning report makes a series of recommendations for solving this crisis, beginning with stemming the demand for narcotics in the US which fuels this violence.
11.Jul
July 11th, 2014
Refugees occupy Berlin's TV Tower
"Please translate for us," a refugee calls out to police as a group of protesters are split up, "since we are not allowed to learn German."
It's the perfect moment of irony in what has been more than a year of protests against the harsh conditions dictating the lives of Germany's refugees who wait in limbo, often for years, to hear whether they will be allowed to stay or sent back home.
This Wednesday 37 refugees occupied the viewing deck of Berlin's iconic TV Tower in an attempt to make themselves more visible to the public.
In a joint statement they explained: "Everywhere we are turned away. Everyone has the same answer for us. Everyone refers us to the next person. No one listens to us. No one wants to be responsible for us refugees and the inhumane laws under which we live."
This protest is only the most recent of many around the country and particularly in Berlin, where until April a group of refugees lived in a public park in Kreuzberg for more than a year.
In recent weeks attempts to evict refugees from an empty school in the same neighbourhood were met with some members of the group threatening to jump from the rooftop.
The police responded with a 900-strong force, blocking off the street for more than a week while they tried to persuade the 30-40 refugees to move voluntarily, as they did not have the power to use force. Social media was full of reports of police brutality, including claims that some refugees had bananas thrown at them by police - a particularly malicious act at the beginning of Ramadan for which many of the group were fasting.
Many of the refugees up the TV tower, as well as those who lived on Oranienplatz in Kreuzberg and those who are still occupying the Gerhart Hauptmann Schule, have been waiting to hear the result of their asylum applications for three, four or even five years.
As if the incredibly long waiting time for processing applications is not enough, refugees are not allowed to work for the first nine months after they arrive, cannot attend school to prepare themselves for a new life or leave the area to which their application has been assigned, and it is the lack of these rights which have brought them out in protest. Many of the refugees who lived at Oranienplatz had marched out of their designated areas in Bavaria, hundreds of kilometres away, protesting their inability to travel.
The issue is symptomatic of a failed EU migration system which was a key issue of the EU elections in May and continues to remain unsolved.
The refugees in Berlin have been heartily supported by a community of locals who regularly gather in support of better rights for refugees waiting to hear their fate.
Their catch cry: "You can't evict a movement."
"Everywhere we are turned away. Everyone has the same answer for us. Everyone refers us to the next person. No one listens to us. No one wants to be responsible for us refugees and the inhumane laws under which we live." - See more at: http://www.exberliner.com/blogs/the-blog/refugees-occupy-the-tv-tower/#sthash.pFd55Qh3.dpuf
"Everywhere we are turned away. Everyone has the same answer for us. Everyone refers us to the next person. No one listens to us. No one wants to be responsible for us refugees and the inhumane laws under which we live." - See more at: http://www.exberliner.com/blogs/the-blog/refugees-occupy-the-tv-tower/#sthash.pFd55Qh3.dpuf
"Everywhere we are turned away. Everyone has the same answer for us. Everyone refers us to the next person. No one listens to us. No one wants to be responsible for us refugees and the inhumane laws under which we live." - See more at: http://www.exberliner.com/blogs/the-blog/refugees-occupy-the-tv-tower/#sthash.pFd55Qh3.dpuf
10.Jul
July 10th, 2014
16,744 Shoes: Pillar of Shame
On the 10th of July, 19 years ago, the World Community betrayed humanity, passively watching the massacre of 8,372 lives in Srebrenica.
Referring to this date, 4 years ago Phillip Ruch's Centre for Political Beauty built a monument of 16,744 worn shoes, each pair representing a victim of Europe's worst massacre since World War II, at Berlin's Brandenburger Tor.
The political installation, accompanied by a fundraising, shall pave the way to raise a "Pillar of Shame" in the hills above Srebrenica referring to the United Nations and international leaders as the ones most responsible for failing to prevent the mass killings.
AP reported in 2010:
"The German activist describes his project as a "warning for all future U.N. employees never again just to stand by when genocide unfolds" — alluding to the failure of U.N. peacekeepers to protect the Srebrenica victims during the Bosnian war.
On July 11, 1995, more than 8,000 Bosnian Muslim men and youths were slaughtered by Bosnian Serb troops in an enclave supposedly protected by U.N. peacekeepers.
The United Nations had declared Serb-besieged Srebrenica, some 90 km northeast of Sarajevo, a protected area for civilians. But the few hundred Dutch Blue Helmets on the ground were left short of credible weaponry or a clear mandate to protect the town.
Srebrenica fell to the Serbs after senior U.N. commanders dithered on Dutch requests for air strikes and its overwhelmingly Bosnian Muslim residents swarmed the U.N. military base, seeking refuge. But the peacekeepers allowed the Serbs to take away the townspeople when Gen. Ratko Mladic, their leader, said they would not be harmed."
This project is further documented here: http://www.politicalbeauty.de/pillar.html
09.Jul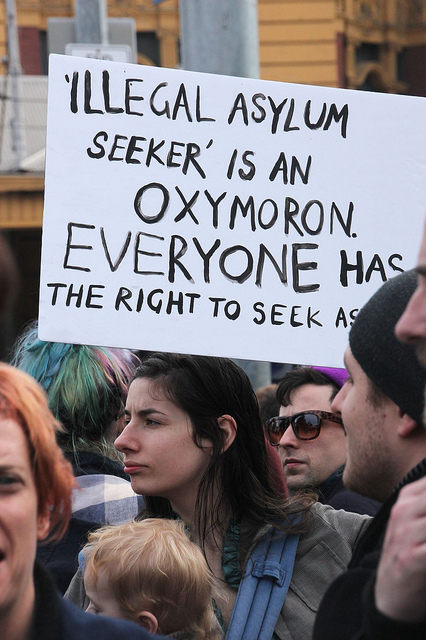 July 09th, 2014
Australia 'sends the persecuted back to the persecutors'
By returning 41 Tamil asylum seekers to Sri Lankan military in the weekend, Australia has violated international law and is in breach of the international refugee convention.
UN refugee agency UNHCR expressed grave concerns about the handover which took place at sea near Sri Lanka on Sunday.
The exchange did not follow due process and left the group fearing torture or death at the hands of Sri Lanklan Police in a country where Tamils are persecuted.
The move, which is part of a severe crackdown on asylum seekers arriving by boat, known as Operation Sovereign Borders, has been widely condemned by human rights groups, as well as a group of 53 legal scholars from 17 Australian universities.
In a joint statement the academics said that the current policy of quickly screening each asylum seeker's application via teleconference at sea did not "comply with the minimum standards on refugee determination under international law".
Aside from the lack of due process, the handover is particularly inhumane as it leaves the lives of these 41 Tamils in the balance.
Leader of the Australian Greens party summed up the situation best when she described the inhumane handover as "sending the persecuted back to the persecutors".
08.Jul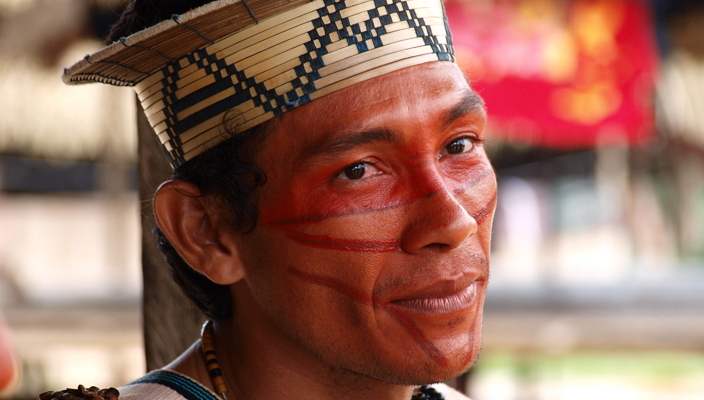 July 08th, 2014
Brazilian activist Benki Piyãko receives Human Rights Award
While the world focusses on the World Cup, losing interest in the social unrest in Brazil, another struggle in Brazil's rain forrest is ongoing: The indigenous people of Ashaninka are peacefully fighting to preserve their habitat.
The city of Weimar chose Benki Piyãko out of eleven propositions from all over the world to receive the Human Rights Award 2013.
Benki Piyãko, who is leading the people of Ashaninka in the Brazilian state Acre got involved with a peaceful living together of indigenous peoples and non-indigenous neighbors in Brazil. His nomination was suggested by the Society of threatened peoples.
Brazil officially recognized the Ashaninka people's territory in 1980, and self-administration was vested to their community.
Consequently following the principles of a peaceful living and coexistence between humans and nature, the Ashaninka pursue their tradition of cultivating the rain forrest in a sustainable way.
To pass this critical endeavor on to their descendants, Benki Piyãko founded the education and training centre Yoreke Ãtame ("Knowledge of the Primeval Forrest"). The centre teaches indigenous and non-indigenous adolescent people how to live with and within the rain forrest, and brings different ethnic groups together.
However, their entirely peaceful way of living and activities brought the Ashaninka around Benki Piyãko a lot of enemies. The wood mafia and drug smugglers assaulted the community several times and threatened to kill Benki Piyãko, if they tried protecting the rain forrest from felling.
While industrial as well as the so called green revolution keep progressing and thereby destroying traditional knowledge about nature and farming, people like Benki Piyãko are not only important for the survival of indigenous people, but become crucial to preserve this knowledge.
07.Jul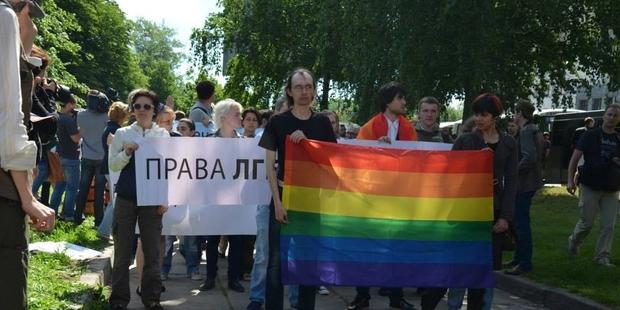 July 07th, 2014
Police unable to guarantee protection for Ukraine pride march
A pride march planned for this weekend in Kiev had to be cancelled after police said they would be unable to guarantee protection for those involved if there was to be a far-right counter march.
The mayor of Kiev, Vitali Klichko, clearly demonstrated the lack of support for the march planned for 5 July when he said that this was not the time for such "entertainment events" in Ukraine.
Amnesty International has condemned the unwillingness of authorities to protect the event, saying it "sends all the wrong signals".
"The importance of the right to freedom of assembly was dramatically evidenced in the EuroMaydan protests," said John Dalhuisen, Director of the Europe and Central Asia Programme at Amnesty International.
"It's hugely disappointing that only five months later, the peaceful enjoyment of this right is being selectively denied by the very authorities who profited from it."
"They must ensure, without fail, that next year's march is adequately policed to ensure the protection of all those wishing to take part."
04.Jul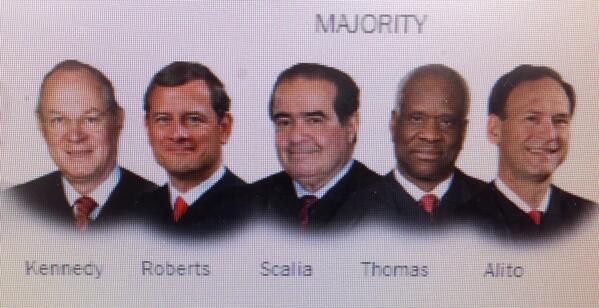 July 04th, 2014
US: Bosses have a say in your contraception
Thanks to a decision by the Supreme Court of the United States of America this week, employers can now have a say in whether to provide women with free emergency contraception as part of regular staff health provisions.
For-profit corporations, in this case Hobby Lobby, are now allowed to refuse to include emergency contraception in their plans on the basis of the CEO's religious beliefs.
Religious organisations were already exempt from the Affordable Care Act's mandate to provide free birth control coverage.
About two-thirds of working age American women get their health insurance through their employer. By extending this exemption to particular religious employers of secular, for-profit organisations, the Supreme Court has essentially handed the personal health decisions of these millions of women over to their bosses.
In 2012 the cost-free birth control mandate came into effect, giving 47 million American women the opportunity for more equality in family life, education and employment, through their right to choose for themselves. This decision threatens all that they gained.
Image credit: Tweeted by @NickKristof, with the caption: "The experts on women's health on the Supreme Court who ruled today against contraception coverage. Hmm."
03.Jul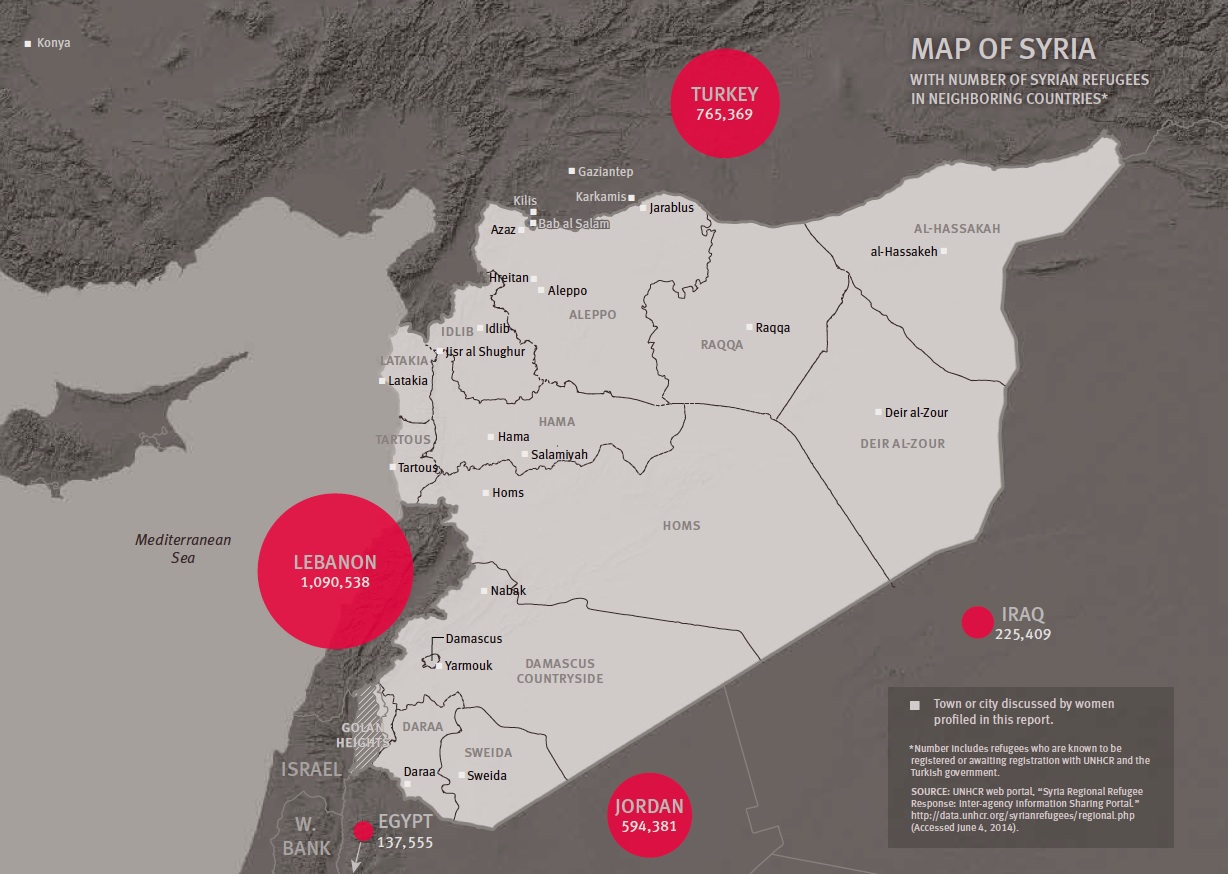 July 03rd, 2014
We are still here - Women on the front lines of the Syrian conflict.
Almost 3 million refugees fled to Syria's neighboring countries. Today, Human Rights Watch released the report "Women on the Front Lines of Syria's Conflict". According to HRW the 47 page report 47-page report profiles 17 Syrian women who are now refugees in Turkey. Through written and photographic portraits, the report documents ways in which the conflict impacts women in particular. Women profiled in the report experienced violations by government and pro-government forces as well as by armed groups opposed to the government such as Liwa'al-Islam and extremist groups like the Islamic State of Iraq and Sham (ISIS). Some female activists and humanitarian aid providers said they had been threatened, arbitrarily arrested and detained, and tortured by government or armed opposition forces. All six former detainees profiled in the report experienced physical abuse or torture in detention; one woman was sexually assaulted multiple times. Other women said they had been victims of discriminatory restrictions on their dress and movement. Several women were injured or lost family members in indiscriminate attacks on civilians by government forces."
The download the full report please go to Human Rights Watch's publication section.
02.Jul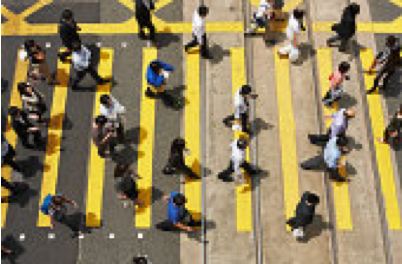 July 02nd, 2014
Pro-democracy march in Hong Kong defies Beijing
More than half a million people took to the streets of Hong Kong yesterday to demand greater democracy in their city-state, which is largely controlled by Beijing.
The march and sit-in, which were for the most part peaceful, demanded free elections for the territory's chief executive position.
As police warned protestors, most of them young, that they were in violation of the law, they continued to chant "change comes from the people" in Cantonese. Many banners read "say NO to communist China".
The police arrested 511 people for unlawful assembly and obstructing the police.
While protest organisers spoke of record crowd numbers, they also insisted that this was only a rehearsal for much larger sit-ins planned for later in the year. They said these will go ahead if Beijing does not allow Hong Kong, a former British colony, to have free elections.
At the end of last month more than 800,000 locals voted in an informal vote to make the elections more democratic. Beijing called this vote illegal.
Three weeks earlier, Beijing released a white paper which asserted severe authority over Beijing, which caused a backlash in the city-state. Hong Kong had been promised a "high degree of autonomy" when it was returned to Chinese sovereignty by the British in 1997, and the paper was clearly in violation of this.
Image: Getty Royalty Free