01.Jan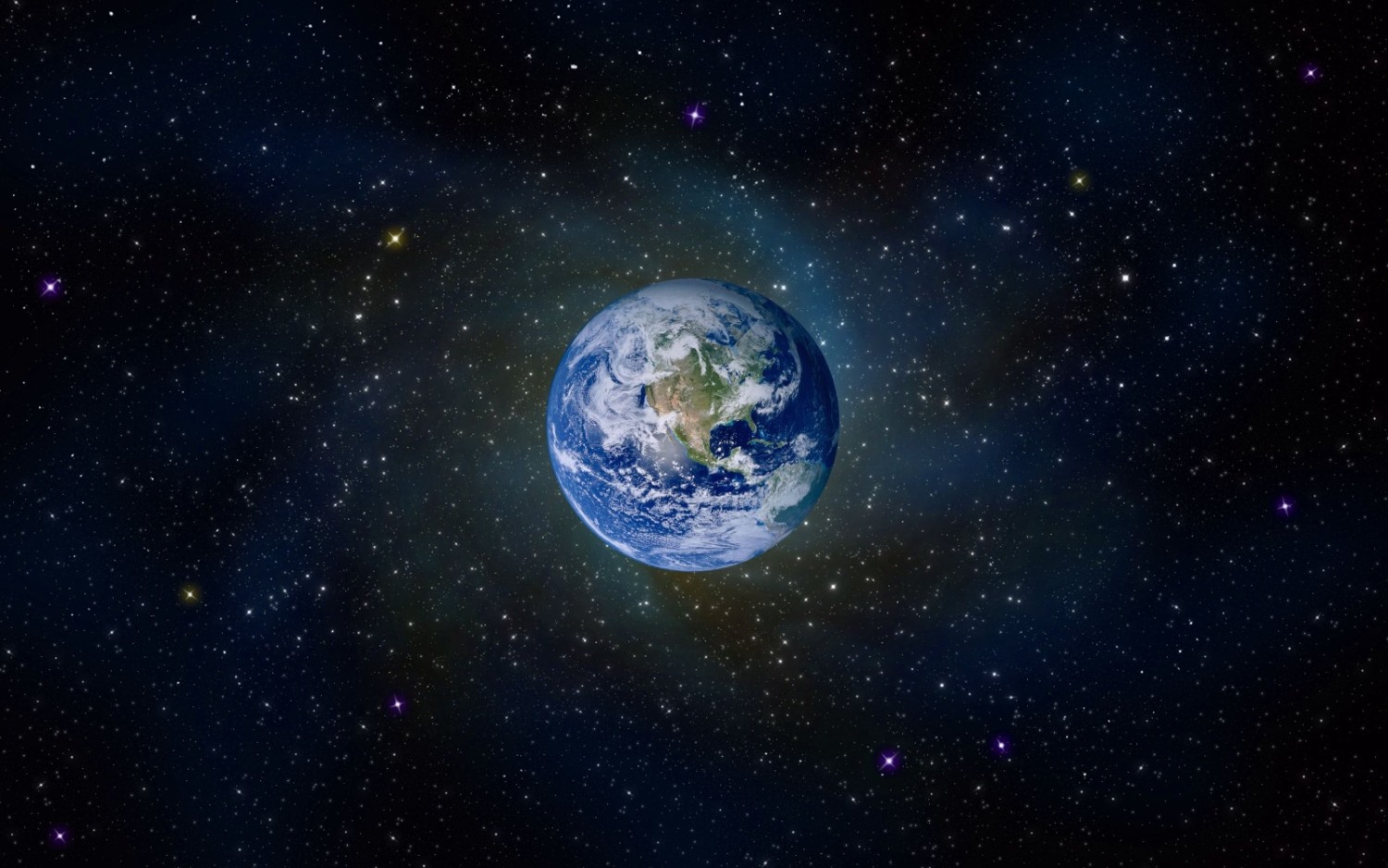 January 01st, 2015
2014, what a nightmare. May 2015 bring sanity and humanity!
In 2014 the world was a mess. Any continent where the political, societal and humanitarian situation wasn't in devastating disorder?
In Europe, 20 years after the war in former Yugoslavia, another hot war has come back in Ukraine, taking thousands of people's lives at the interface between Middle Europe and Russia. Western sanctions against Russia and its falling economy, potential instability accompanied the initiation of a new Cold War.
The Gaza War with its numerous civilian victims drove Israel and the Palestine Authority into a muddled situation, pushing potential peace scenarios even more out of sight and believe.
In West-Africa, Ebola killed more than 8,000 people in Liberia, Sierra Leone and Guinea, and just because the deadly disease fell from the media's agenda, it doesn't mean we've beaten the plague.
The Syrian regime's war on its own people has led to one of the world's most devastating humanitarian crisis after WWII, with more than 200,000 people losing their lives and about 10 million their homes. And, as if that wasn't enough, the rise of the so-called Islamic State (IS) has brought terror and civil war to an already instable, vulnerable region, destroying the Middle Easts' cultural, religious and political diversity with the largest stream of refugees since 1945.
These, and other refugees from mostly African countries, are desperately knocking at Europe's door while the world's most advanced democracies are being threatened by rising right-wing political parties and movements.
In Pakistan the Taliban's latest attack on a school led to a massacre on nearly 130 children – with no end in sight for the war on civilians and human rights. Against this background the Nobel Peace Prize for Kailash Satyarthi and Malala Yousafzai "for their struggle against the suppression of children and young people and for the right of all children to education" seems like a helpless sign of humanity.
Let's put it straight: 2014 was a humanitarian nightmare, a year of political earthquakes, where politics and diplomacy failed against nationalistic and religious delusion.
So, let's keep up hope that in 2015 we reflect and take action on what really makes us human.
31.Dec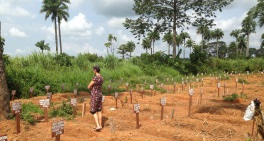 December 31st, 2014
Death and Burials in Liberia
Liberia has opened a new cemetery to allow for the burials of victims of Ebola. An official commented that the site in Monrovia will allow for "dignified" burials of victims, as opposed to cremations and mass burials.
The announcement coincided with the World Health Organisation's announcement that the number of people infected by Ebola in Sierra Leone, Liberia and Guinea has now passed 20,000.
The number is truly astonishing, not least because the virus has shown no signs of slowing down in terms of infection rates, despite the best efforts to contain it by the WHO and UN. This may be due to insufficient funds to halt the spread of the virus, or simply the complexity of the problem.
With the opening of the cemetery however, Liberia has not only provided a place for families of victims to perform burial ceremonies in accordance with their religious beliefs, but has provided a growing visual monument to the ongoing ravages of the virus.
With the focus of people's attention switching from Ebola cases in Africa to Ebola cases in closer proximity, the cemetery acts as a reminder that the virus is real and damaging to people's lives in the most real of ways.
30.Dec
December 30th, 2014
Lisa Kristine: Photos that bear witness to modern slavery
"I'm 150 feet down an illegal mine shaft in Ghana. The air is thick with heat and dust, and it's hard to breathe. I can feel the brush of sweaty bodies passing me in the darkness, but I can't see much else. I hear voices talking, but mostly the shaft is this cacophony of men coughing, and stone being broken with primitive tools. Like the others, I wear a flickering, cheap flashlight tied to my head with this elastic, tattered band, and I can barely make out the slick tree limbs holding up the walls of the three-foot square hole dropping hundreds of feet into the earth. When my hand slips, I suddenly remember a miner I had met days before who had lost his grip and fell countless feet down that shaft."
With these words photographer Lisa Kristine opens her speech at a TED event about modern slavery. For the past two years, she has traveled the world, documenting the unbearably harsh realities of modern-day slavery. She shares hauntingly beautiful images — miners in the Congo, brick layers in Nepal — illuminating the plight of the 27 million souls enslaved worldwide.
29.Dec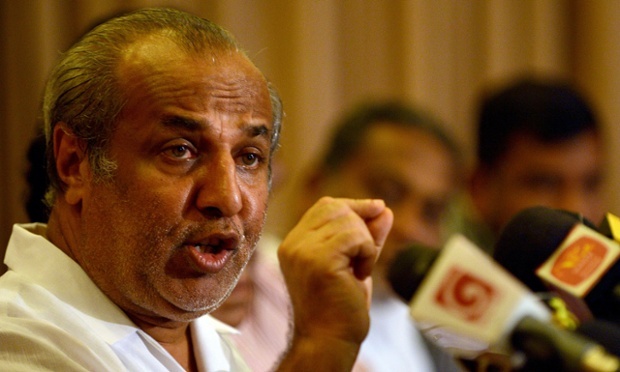 December 29th, 2014
Little Democracy, Big Action
The upcoming elections in Sri Lanka haven't exactly caught the world's attention, but the decisions of Rauf Hakeem, leader of the Sri Lankan Muslim Congress- Sri Lanka's largest Muslim political party, may have demonstrated one of the most important aspects of democracy in action: protection of the rights of minorities.
President Mahinda Rajapaksa, leader of the Sri Lankan Freedom Party and the ruling alliance of parties, suffered a setback as Hakeem withdrew support for the coalition and defected support to the opposition. Yesterday's announcement dealt a major blow to Rajapaksa's campaign for a third term in office, with more than 20 lawmakers and ministers already defecting to the opposition.
Referring to attacks on Muslims from ultra-nationalist Buddhists in June 2014, Hakeem said his party and the nation required guaranteed security for minorities; presently inadequately protected in an overwhelmingly Buddhist nation.
Some critics have called the move opportunism, as the election draws near and the Muslim Congress decides to throw its weight behind Maithripala Sirisena, leader of the opposition. However, by stating outright the motivation for making the move, Hakeem has made a very shrewd move; he makes Sirisena duty-bound to protecting the rights of minorities should he win, and alerts the world to look with greater scrutiny on the Sri Lankan situation.
If it is just a shallow move to back a younger, faster horse, at least Hakeem and the Muslim Congress have ensured that the official reason for the move is a proper function of democracy- the protection of the rights of minorities- a proper function of democracy that cannot be overlooked in a country with an awkward postwar peace.
26.Dec
December 26th, 2014
UN Peacekeeper soldiers fire at protestors in Haiti
Haitian police and UN peacekeepers have attacked protesters with live ammo and chemical agents as several thousand opposition supporters tried to march on the presidential palace, demanding new leadership.
Haiti has seen many anti-government protests in recent months calling for President Michael Martelly to step down, amid a growing anger over the high levels of government corruption. Elections have been delayed now for years.
People took to the streets again today. As the video above shows, the protest march approaching the Presidential Palace faced a barrage of gunfire and tear gas. While major media outlets have the audacity to falsely claim that Haitian police and UN peacekeepers fired only into the air to disperse the protest while on the same page show a photo of the man seen below taking aim at head height. It is profoundly clear that shots to kill were taken.
President Michel Martelly said Friday night last week that he accepted all the findings of a report this week from a government-appointed commission, including its recommendation that the prime minister resign.
Martelly said during a brief televised speech that Prime Minister Laurent Lamothe was prepared to resign, but an actual date for that to happen was not given.
UPDATE
25.Dec
December 25th, 2014
Mother Nature is resilient, but we must make a choice
Jane Goodall became first known through her studies on our close relatives, the chimpanzees, by discovering their unexpected ability to use tools to pursue individual goals. Our human race has developed exactly this kind of competence, leading to unprecedented capabilities to improve our life on this planet. Yet, with immeasurable consequences on nature and our habitat, including all its natural residents and resources.
The era of technology and industrialization combine our scientific and organizational capabilities to what is commonly considered as progress. And, while we are still questioning scientific findings on reasons of the changing climate, and the ruthless exploitation of our natural resources, its consequences already became a reality.
Millions of climate refugees, the exponential extinction of species and the abuse of our natural resources are telling that dystopian scenarios of our future are not just knocking at our door, but they have already entered our live - ticking like a time bomb.
When UN Messenger of Peace, and author of a book titled "Reason For Hope", Jane Goodall was recently asked by the New York Times whether the Earth would be a better or worse place by 2050 her answer wasn't driven by much hope it seems:
"I see the world in 50 years, perhaps 100, as a dark place."
Goodall pointed out three predictions being caused by human behavior:
First, "environmental refugees will have fled their destroyed homelands, flooded by the rising seas or buried by the encroaching deserts. Many people will be starving as they fight for access to water and land."
Second, "medical science will be unable to cope with new infections, as bacteria build up resistance to more and more antibiotics and the tropical forests where so many medical cures are sourced are destroyed."
And, third, "the destruction of the rainforest, losing each year a chunk of rainforest the size of Panama to deforestation. The loss of these lush forests won't just affect the animals and plants who live there or the people who live in their immediate vicinity. We get a large portion of our medicines, including the drugs we use to fight deadly diseases like cancer, from the rainforest."
The terrifying thing about Goodall's vision isn't "how dystopian it sounds, but rather how prescient it's already proven to be," reports the Business Insider.
The huge challenge seems to be that we won't get away by just developing better tools as chimpanzees do, because as Albert Einstein said, "we can't solve problems by using the same kind of thinking we used when we created them."
In fact we need to develop our minds and move into a new era that cultivates collective intelligence and ethical orientation based on respect and care for nature. We need to define a new role for humans on this planet.
Again, Einstein's take on this was to demand "a substantially new manner of thinking if mankind is to survive."
24.Dec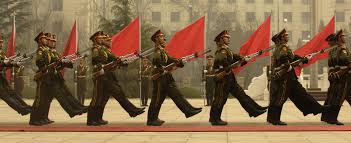 December 24th, 2014
Oil slicks way for peace
China is taking South Sudan's civil war personally. In a major shift from its stated policy of non- interference in African conflicts, it's sending 700 combat troops to the new country early 2015. Africa's biggest trade partner has until now kept a distance from its political and military disputes.
But heavily invested in South Sudan, China is taking a proactive stance in diplomatic efforts to pacify the country where civil war has slashed oil production by a third. According to Richard Poplack, a journalist studying the effect of the Asian giant on Africa, the latter has "poured billions and billions in resources" into South Sudan. The violence there was sparked last December when president Salva Kiir accused his sacked Deputy, Riek Machar of attempting a coup on his government. The fighting in Juba poured into large swathes of the country, claiming thousands of lives and pushing the country to the brink of famine. Oil producing regions have suffered some of the worst violence.
Though China has been one of the largest suppliers of peacekeeping troops, they were engineers, medical, transport and security personnel. Since 2000, it has gradually increased its peacekeeping troops twentyfold and this infantry battalion will be equipped with drones, armoured carriers, antitank missiles, mortars and other weapons.
The Guardian reports that in a 2011 report, the NGO Saferworld found that despite its stated neutrality, the Asian power has been gradually using diplomatic means to push for the resolution of certain conflicts and is becoming a major supplier of conventional arms to African states.
"It's a precedent and any precedent is a dangerous precedent." says Richard Poplak.
23.Dec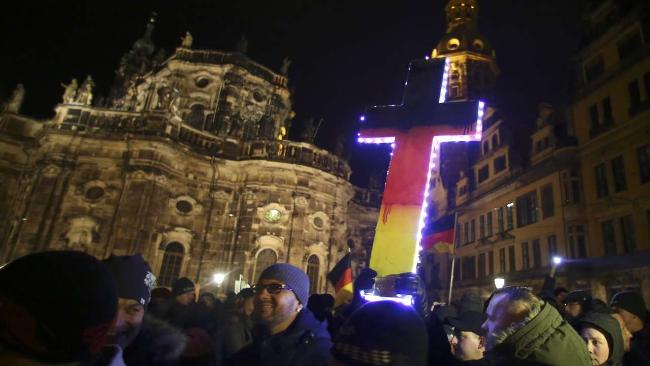 December 23rd, 2014
Germany's democracy on thin ice?
Recently Dresden has become the centre of a movement called Pegida, an abbreviation for Patriotic Europeans against the Islamization of the Occident. Dresden is the capital of Sachsen, which is one of Germany's five states that formerly belonged to the GDR. The city of 500,00 inhabitants is historically landmarked through the late and vast bombing in WWII, which caused the debate on the ethical justification of the Allied forces' conduct of war. A circumstance that rightwing extremists regularly abuse to mobilize a Nazi-minded crowd of protesters each year. Second, Dresden became known for its so-called "Monday Demonstrations", which took off 1989 in the city of Leipzig before spreading over to Dresden as well. These demonstrations were a crucial element in the peaceful revolution that led to the German unification. The shouting "Wir sind das Volk!" (We are the people!) became a powerful call for democracy against the repressive regime of the GDR.
However, since a couple of weeks Pegida grew from a small group of several hundred followers to 17,500, walking every Monday, scanning and showing various slogans. While the protests benefit from a large media coverage, part of the debate puzzles over their (real) intentions and motives. Conservative and rightwing parties are putting out ambivalent messages, dissociating themselves from Islamophobic and racist statements on the one hand, but acknowledging the protesters' frustration over vage discomfort on politics and media on the other hand. Their motive seems to be the absorption and capitalization of people's voting potential.
The vast majority of politicians, media, civil organisations and anti-Pegida protests that showed up in the streets see Pegida's motives as a clear resentment against immigrants and refugees of Muslim origin, abusing the values of democracy, and in the eve of Christmas, if you will, of Christianity as well.
If not some of the protesters, surely the initiators must be aware that they are not only abusing former GDR civil rights campaigners' s call for democracy and freedom "We are the People"; the characteristics of the paroles used by the protesters are actually of bare Nazi origin: "Lügenpresse" (Liar Press) is a term that was coined by the Nazi's propaganda head Josef Goebbels, just like "auf deutschem Boden" (on German soil) was a common vocabulary of the racist regime back then. The initiators speak of being concerned about the future of "our children", which actually means children of ethnic German origin, particularly excluding descendents of immigrants.
Editor of the German newspaper Die Zeit Yassin Musarbash clearly outlined in The Guardian why Islamophobia is pure racism. Particularly, one should know that Dresden with a portion of 0,4 %, has almost no Muslim inhabitants in Dresden.
But apart from that the movement dismantles the thin ice of democracy this minority of people is walking on: Frustration and anxiety over their lives seems to turn within weeks into hate, exclusion and agitation against immigrants and refugees.
22.Dec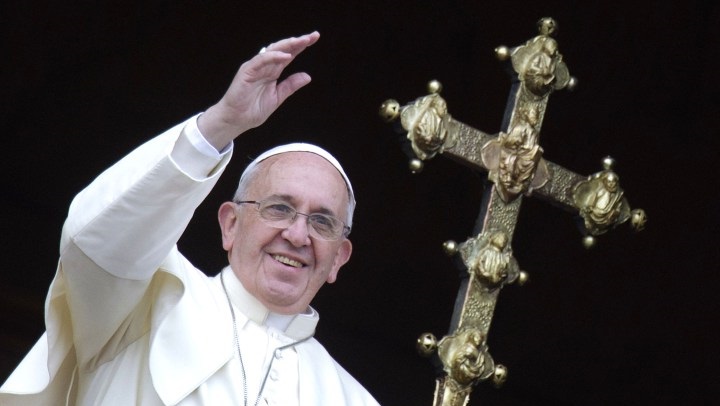 December 22nd, 2014
Of Popes and Power
Religion is bad, isn't it? Religious authorities are terrible, aren't they? After millennia of exploitation by religious authorities across the world, I can see why this is the default stance of many.
However, cynicism should be tempered with reminders that religion still has a role to play in the world. How the Vatican came to be in a position of influence in the world, should not be forgotten; however, neither should its diplomatic role. Since criticism of the Vatican comes in the form of political analysis, it should be equally praised when having a positive political impact.And in the past few years, under the distinguished leadership of Pope Francis, the Vatican is demonstrating that religious authorities are well-placed to have a positive impact in the political realm.
The Vatican behaved like a criminal, neo-conservative reactionary body under Joseph Ratzinger- that had to change- for reasons clear enough to the Vatican itself- and it now channels its energies into its diplomatic services.
The structure and goals of its diplomatic body are well-explained in this article from the Guardian. Last week, the Vatican helped broker a deal between the US and Cuba that will see trade and travel improve between the two nations, as well a US embassy being built in Havana.
Whatever criticisms can be levelled at the deal itself, it should be acknowledged that it is a very significant step out of the old-world order, and that a religious body helped to bring about a deal between two nations whose relations in the past almost brought the world to nuclear disaster.
19.Dec
December 19th, 2014
Nazis against Nazis – Germany's most involuntary Walkathon
This year, Wunsiedel decided to take a different approach and turn the funeral march of the neo-Nazis into the most involuntary walkathon in Germany. Without the knowledge of participants, posters, banners and ground markings were put up all along the demonstration route, giving it the look of a sporting event, complete with motivational sayings and typical competition elements such as start and finish lines. "Donate, walk!" or "Final sprint instead of victory!" on cheerful confetti-strewn posters were intended to motivate nearly 200 demonstrators, because walking was the very idea behind it all: for every metre walked, €10 went to Nazi opt-out programme EXIT Deutschland – money that was collected from private persons, companies and NGOs beforehand. The result? €10.000 and a lot of surprised right-wingers.
Ever since 2000, the initiative EXIT Germany has helped right-wingers to escape from the scene and build a new life for themselves. This work is dependent on donations. This is why a charity walk was organised with the help of numerous local supporters for the march.