Coke over Coatzacoalcos
March 25th, 2015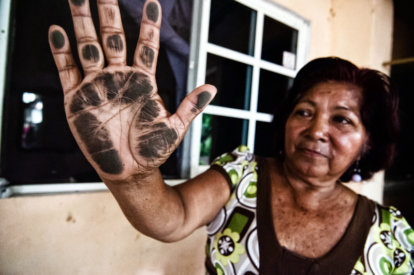 Support independent journalism.
Donations go in full to the author.
Once the target amount is reached, production will begin.
Select the amount, click on it, fill in your email and credit card info.
Following your submission you'll receive a confirmation email.
For assistance please contact us at support@fairplanet.org

The neighbours of a little village in Coatzacoalcos (East of Mexico) - next to a big refinery that process pet-coke denounce - are continuously exposed to pollute emissions and they are having increasing health problems. They say the fishes of the river (their main aliment) taste like coke; that every night they have to close their doors and windows in spite of the heat to avoid the black ashes from the refinery get into their houses; that sometime the rain have been black and that usually in the mornings their windows, roofs and trees are covered with the black ashes. In a nearby village, the Mexican oil company (Pemex) takes the coke to be stored before it's taken to factories all over the country (they use it as fuel) and fear big ecological damages to their aquifers. The village is divided about this storage and opponents denounce there have already been some fishes and butterflies massive deaths since this activity started less than two years ago.
This reportage displays the challenges the people of Coatzacoalcos have to face and if there is any solution on its way.
Thanks to your great support this story is completely funded! Here you can read the reportage.