The green heart of Africa
January 03rd, 2015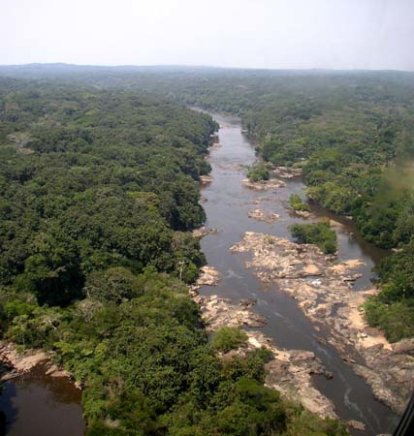 Support independent journalism.
Donations go in full to the author.
Once the target amount is reached, production will begin.
Select the amount, click on it, fill in your email and credit card info.
Following your submission you'll receive a confirmation email.
For assistance please contact us at support@fairplanet.org

The Congo rainforest is the world's second largest rainforest after the Amazon. While the Congo Basin forests appear to be absorbing more carbon at present, the science on the impact of climate change in the region is far from complete. Climate models indicate Congo basin will likely witness a change in temperatures— up to 4°C this century, but it is uncertain how vegetation and wildlife will respond to the new conditions.
Congo Basin is the zone with lowest deforestation in the world in REDD+ intervention areas. However, there are signs that Congo Basin forests are under increasing pressure from a variety of sources, including mineral extraction, road development, agribusiness and biofuels, in addition to subsistence agricultural expansion and charcoal collection.
Recently REDD+ revealed that between 1990 and 2010, Cameroon lost 4,400,00 ha (18.1%) of forest cover at an average rate of 220,000 ha (0.90%) annually. Cameroon's is estimated by scientists to cover at around 22.5 million ha. Although scientists believe the annual forest loss for the Congo Basin has reduced by 36% from the early 1990's to 0.3 percent. Cameroon's rate of deforestation is largely above the global annual rate for all the six counties of the Congo Basin.
What this story will investigate
The story is about the Congo basin forest. It is based on the newest satellite reveals, what scientists, policy makers of COMIFAC and the UN REDD are doing to protect the forest. The story will focus on the climate change risks this zone will face in the near future. It touches marred projects of development and will cover three important COMIFAC events:
– PRE REDD, COMIFAC – Regional Workshop to amend and refine the operational planning of field measurements of tree biomass, Douala, Cameroon;
– GEOSFT Conference : Satellite observation in Central and West Africa: Forest Carbon, from research to national REDD + strategies, Yaoundé, Cameroon and
– Forest Governance Forum, Yaoundé, Cameroon.