29.Oct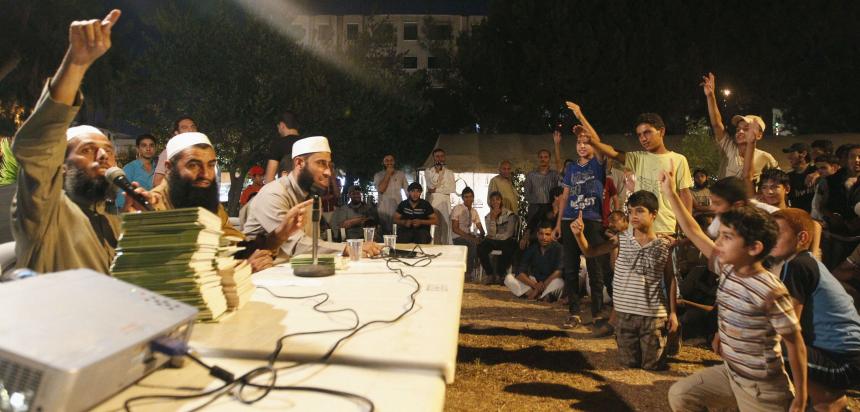 October 29th, 2014
Child soliders recruited by the Islamic State
The Islamic State is recruiting children as young as six years old as child soliders, indoctrinating them with extremist beliefs and teaching them basic fighting skills.
The widespread, very well organised program said to be on an "industrial scale" signals that IS is preparing for a long war with the West – one which will require military from future generations.
According to Foreign Policy magazine, the children "stand in the front row at public beheadings and crucifixions held in Raqqa, the Islamic State's stronghold in Syria. They're used for blood transfusions when Islamic State fighters are injured. They are paid to inform on people who are disloyal or speak out against the Islamic State." And they are trained as suicide bombers.
No figures are yet available for how many children have been recruited, but evidence collected by the UN Refugee Agency from refugees fleeing the Islamic State, as well as from human rights groups and journalists describe the same thing: widespread indoctrination of children.
First-hand reports say children are being kept away from regular schooling, making the Islamic State's propaganda their primary education focus. The program is designed to dehumanise those not following their doctrine and champion the nobility of dying for your faith.
UN assistant secretary-general for human rights Ivan Simonovic recently returned from interviewing displaced Iraqis.
He said that the Islamic State children's programs "project an image of being victorious" and offer the promise that those who fall in battle will "go straight to heaven."
"What is striking for me is to meet mothers who [tell us], 'We don't know what to do,'" he said. "Our sons are volunteering and we can't prevent it."
A website which covers the Syrian civil war, Syria Deeply, reported in September that boys who join or are abducted by IS militants are taken to religious or military training camps where some are trained in how to behead another human being. According to their report, IS even provides dolls on which to practice beheading.
28.Oct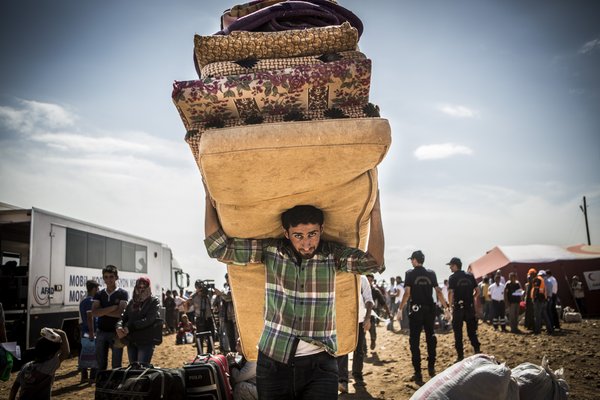 October 28th, 2014
Berlin Conference on Syrian Refugee Crisis
The Syrian refugee situation is unprecedented in scale and is the largest operation the UNHCR has dealt with in its 64-year history. Over 191,000 people have perished; the violent conflict has displaced more than 6 million people within Syria and has forced over 3.2 million to seek refuge abroad.
At the request of Syria's neighbours and in response to urgent calls for action by the UN, German Foreign Minister Frank-Walter Steinmeier has invited 20 foreign ministers and 10 international organisations to the "Conference on the Syrian Refugee Situation – supporting stability in the region", due to take place in Berlin today 28 October 2014.
Syria's neighboring countries, in particular Turkey, Lebanon, Jordan and Iraq are severely strained in maintaining the capacity and infrastructure to accommodate the needs of both refugees and host communities.
According to the German Ministry of Foreign Affairs this situation "urgently requires concrete and long-term solutions. The burden on host countries must be shared by the whole international community; an adequate humanitarian response will have to include transitioning towards long-term structural assistance, as well as increasing refugee and host community resilience. The Berlin conference is intended to translate this acknowledgement into concrete action."
27.Oct
October 27th, 2014
Life under Boko Haram
Mandatory religious conversion, rape, torture, forced labour, psychological abuse: life for women and girls captured by Boko Haram is even worse than we might have imagined.
A new report by Human Rights Watch collects testimonies from women and girls who have been kept in Boko Haram's camps.
More than 500 females have been kept in the militant group's camps since 2009, with 276 having been captured from a school in Chibok in April this year.
Almost two weeks ago the Nigerian government announced that Boko Haram had agreed to a ceasefire, which they expected would be followed by releasing the remaining Chibok girls held at the camps. However this result remains to be seen.
The HRW report documented treatment of the cruellest kind.
"They and many others they saw in the camps were subjected to physical and psychological abuse; forced labour; forced participation in military operations, including carrying ammunition or luring men into ambush; forced marriage to the captors; and sexual abuse, including rape," the report says. "In addition, they were made to cook, clean and perform other household chores. Others served as porters, carrying the loot stolen by the insurgents from villages and towns they had attacked."
A 15-year-old girl who was held in a Boko Haram camp for four weeks in 2013 described being forced to marry a militant more than twice her age. "After we were declared married I was ordered to live in his cave but I always managed to avoid him. He soon began to threaten me with a knife to have sex with him, and when I still refused he brought out his gun, warning that he would kill me if I shouted. Then he began to rape me every night. He was a huge man in his mid-30s and I had never had sex before. It was very painful and I cried bitterly because I was bleeding afterwards."
The report also documents opinion from a social worker supporting women who had experienced Boko Haram's violence that rapes had been particularly underreported in local and national media because of the stigma attached to sexual abuse.
24.Oct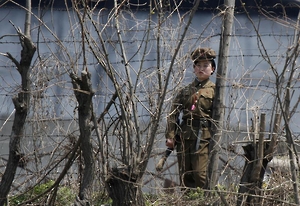 October 24th, 2014
Opening the shutters on North Korea
Imagine being imprisoned for three decades for something your grandfather, someone you had never met, had done.
This was the fate of Mrs. Kim Hye-sook, who testified against the North Korean regime on Wednesday at a special event held to shed light on the scale of human suffering in North Korea.
Mrs Kim, a former political prisoner among what is though to be between 80,000 and 120,000 in North Korea, told of being arrested at the age of 13 and not knowing the reason for her imprisonment - that her grandfather, whom she had never met, had defected to South Korea - until she was released almost three decades later.
"Rule #1 in the camp: you should never ask why you were there. Many of those who asked were publicly executed," she explained.
The event, cosponsored by Australia, Botswana and Panama, provided a timely reminder to the UN's member states that although the North Korean regime chooses to isolate itself, it doesn't mean we should ourselves turn a blind eye.
In the West we probably too often ignore the human rights abuses taking place in North Korea. Our media certainly tends to favour gossip about the state's leader or kooky photo albums showcasing the state's 'fashion police' over reporting on the harsh realities of life in North Korea.
The EU and Japan have coauthored a draft resolution acknowledging possible crimes against humanity in the state, recommending possible action, such as referral to the International Criminal Court, be taken.
It is now up to the UN General Assembly to adopt this resolution and demonstrate that the world does not tolerate gross abuses of human rights.
Since the UN commission of inquiry on the Democratic People's Republic of Korea published its damning report of the state in February, the DPRK has since circulated its own version which denies any abuses.
They had also refused to give unconditional access to the UN's Special Rapporteur on human rights in North Korea.
The regime is clearly on the defensive, making it even more important to garner widespread support for the improvement of North Koreans' access to human rights.
23.Oct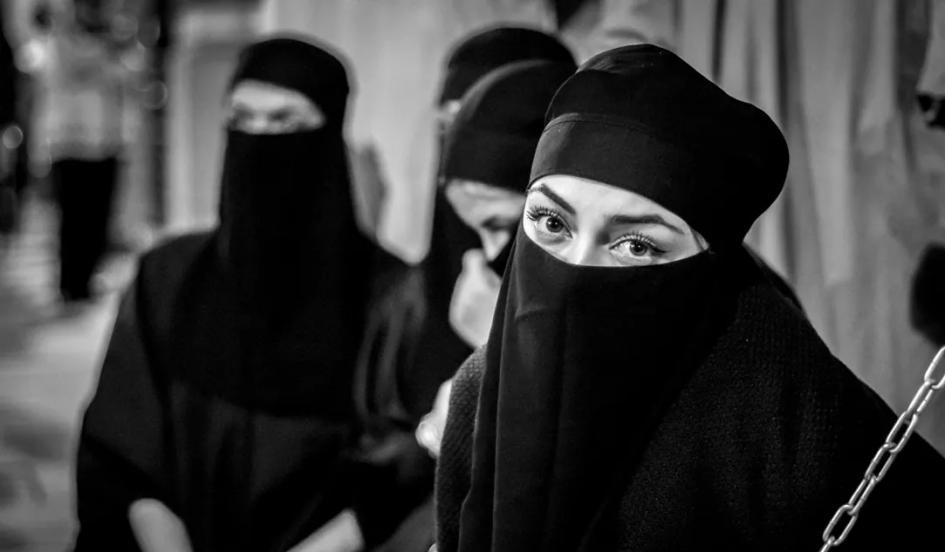 October 23rd, 2014
British Kurds staged an IS 'sex slave' auction
A young Yazidi woman forced into slavery by the Islamic State begged the West to bomb the brothel where she was being held after militants raped her 30 times in just a few hours, it is claimed.
The unidentified woman is understood to have been kept as a prisoner of the jihadists somewhere in western Iraq having been captured by ISIS during the Sinjar massacre in early August.
Newsweek reports how Kurdish Activists stage ISIS Sex Slave Market in Central London: The protest led a group of chained veiled women and encouraged passers by to bid for them in front of the Houses of Parliament, Leicester Square and Downing Street.
"This is what Shariah means," the speaker for the mock ISIS group belted from a megaphone at the first of three protests.
"This happens every day in Iraq and Syria. We are bringing it to you," he yelled while leading a group of four chained and veiled women in front of Westminster Square, followed by 20 protesters chanting "ISIS, ISIS, terrorists!"
An interview conducted by BBC World News with the activists is available here.
22.Oct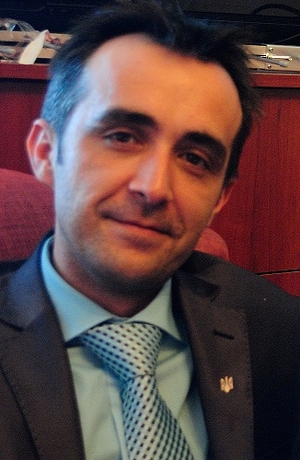 October 22nd, 2014
Enforced 'disappearances' in Crimea
According to Human Rights Watch, at least seven people have been forcibly disappeared in Crimea since May.
Two are pro-Ukraine activists, while the other five are Crimean Tatars who openly opposed Russia's annexation of Crimea in March.
In recent days, two more Crimean Tatars have gone missing, and one was found hanged on October 6.
"The disappearances are contributing to the atmosphere of fear and hostility in Crimea for anyone who is pro-Ukraine, including Crimean Tatars," said Yulia Gorbunova, Europe and Central Asia researcher at Human Rights Watch. "The de-facto authorities need to investigate all potential leads in these disappearances, including whether paramilitary groups or Russian security forces were behind them."
Human Rights Watch reports: "In the past six months the de-facto authorities have steadily increased pressure on some members of the Crimean Tatar community. The authorities have issued several warnings to Mejlis, the body that represents Crimean Tatars with the authorities and international community, over what were called "extremist" activities, including flying a Ukrainian flag at the Mejlis office."
Image:
21.Oct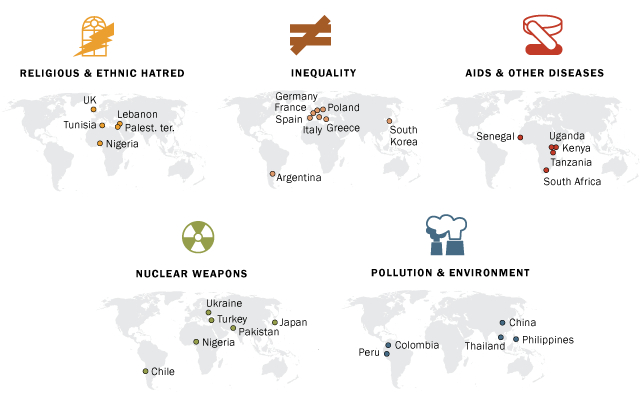 October 21st, 2014
The greatest danger in the world according to...
The Pew Research Center conducted a survey in 44 countries asking which among five dangers was considered to be the "greatest threat to the world."
It's probably no surprise that many in the Middle East see religious and ethnic hatred as the greatest threat, while Europeans tended to choose inequality. Africans are more concerned with AIDS and other infectious diseases, while scattered countries, many with good reason, chose the spread of nuclear weapons or pollution and environmental problems as the top danger.
The global study is presented on PewGlobal.org's Gobal Attitudes Project page. The dots on the first map represent the countries that express the highest level of concern about each danger category. The geographical clustering shows that countries' choices often reflect regional concerns as well as internal problems.
The Pew Research Center's Global Attitudes Project conducts public opinion surveys around the world on a broad array of subjects ranging from people's assessments of their own lives to their views about the current state of the world and important issues of the day. Over 330,000 interviews in 60 countries have been conducted as part of the project's work.
20.Oct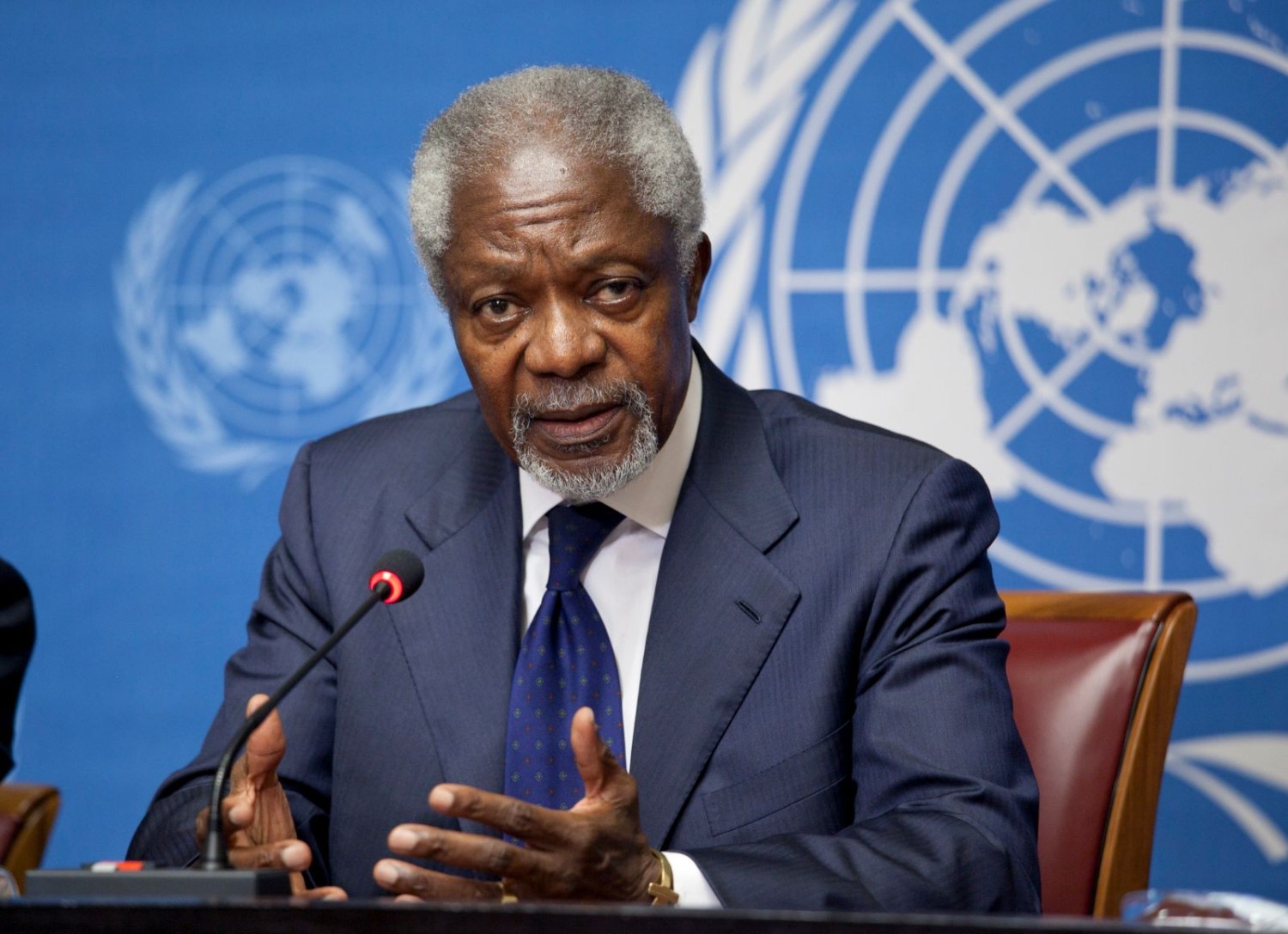 October 20th, 2014
Kofi Annan disappointed in the West's response to Ebola
Former UN Secretary General Kofi Annan says the West has been slow to tackle Ebola because it began in Africa.
His tough criticism of the West's response to the crisis highlighted idea that, had the epidemic originated in the US or Europe, the response would likely have been much swifter.
"I am bitterly disappointed by the response... I am disappointed in the international community for not moving faster," Annan told the BBC programme Newsnight.
"If the crisis had hit some other region it probably would have been handled very differently. In fact when you look at the evolution of the crisis, the international community really woke up when the disease got to America and Europe."
Annan said that it should have been clear from the beginning that the disease would eventually spread out of Africa, but Western nations appeared to be putting off making the tough calls.
So far one nurse in Spain has contracted Ebola, along with two nurses in the US who were treating patients who had contracted the disease in Africa.
"I point the finger of blame at the governments with capacity... I think there's enough blame to go around," Annan said.
"The African countries in the region could have done a bit more they could have asked for help much faster and the international community could have organised ourselves in a much better way to offer assistance."
"We didn't need to take months to do what we are doing today."
The World Health Organisation estimates that Ebola could be infecting 10,000 new people each week by December.
17.Oct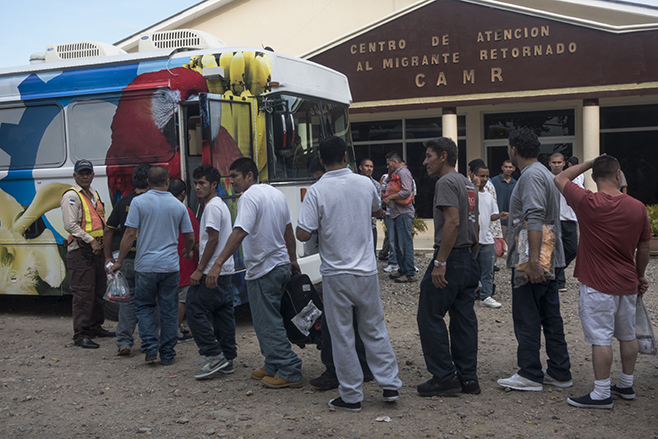 October 17th, 2014
Migrants crossing US border denied the opportunity to claim asylum
Central Americans seeking asylum in the USA are being denied the opportunity to make genuine claims for asylum, according to a new report released by Human Rights Watch.
The report, titled "'You Don't Have Rights Here': US Border Screening and Returns of Central Americans to Risk of Serious Harm," documents the 'rapid-fire' methods used to screen asylum applicants which do not provide ample opportunity for the applicants' situations to be properly assessed.
The practice follows a trend which we have also seen in Australia: there asylum seekers have been screened via teleconference while still at sea after making the arduous journey from Sri Lanka. In some cases, applicants were only asked four quick questions via teleconference before being turned back towards their persecutors.
The Human Rights Watch report was based on interviews conducted with Hondurans who had been sent back after their applications were denied, as well as with people in detention and using data obtained from the US's Freedom of Information Act.
"Hondurans who fled extortion and threats from brutal gangs faced fast-track screening procedures in the US that resulted in their deportation without a genuine opportunity to claim asylum. Several of those returned told Human Rights Watch that after their return, they were afraid to leave their houses, fearing for their lives," the report reads.
"The US government's fast-track screening of migrants is ignoring the very real fears of the people arriving at the border," says Clara Long, US immigration researcher at Human Rights Watch and author of the report. "In its frenzy to stem the tide of migrants from Central America, the US is sending asylum seekers back to the threat of murder, rape, and other violence."
And the frenzy is not limited to the USA. Aside from the ongoing "stop the boats" face in Australia, this week police across the EU launched a two-week manhunt for "irregular" migrants - those living in the EU without permission to stay.
They plan to stake out 'hiding spots' like bus depots, highways and, of course, border crossings, in what the police say is an attempt to crack down on human trafficking rings. However rights groups aren't convinced, saying it is a crack down on the most vulnerable people in European societies.
In Berlin activists were seen handing out flyers on public transport to warn those at risk of deportation.
Image: Returned migrants board a bus to Tegucigalpa in front the Center for Returned Migrants, San Pedro Sula airport, Honduras, September 2014. © 2014 Stephen Ferry for Human Rights Watch
16.Oct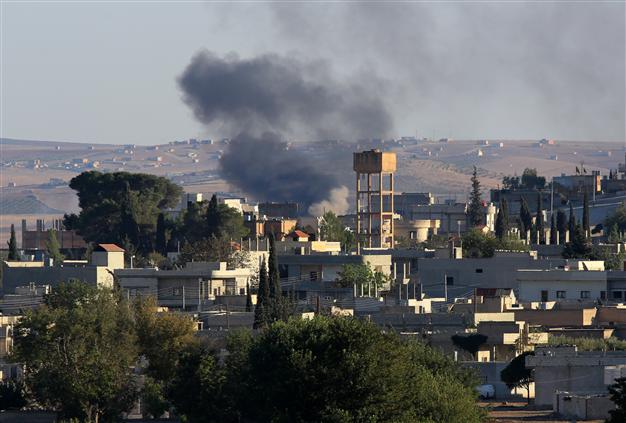 October 16th, 2014
Civilians still trapped in Kobane
According to the Middle East Eye, a Kurdish official in Kobane told AFP that US-led airstrikes had successfully pushed back Islamic State insurgents from parts of the town and had allowed Kurdish fighters to regroup and go on the offensive for the first time.
The Syrian Observatory for Human Rights, speaks about 600 Kurdish fighters been killed within the last month, however it is unclear how many civilians are left in the border town. Turkish authorities claim that Kobane has been cleared of civilians, however according to Kurdish fighters about 2,000 people, including many sick and elderly, remain trapped reported the Middle East Eye.
Despite the reported gains, however, Kurdish forces are still calling for more assistance and warning that Kobane could yet fall if support is not stepped up.
"We need more airstrikes, as well as weaponry and ammunition to fight them on the ground," the Kurdish official told AFP.
The Turkey-based Kurdish Kurdistan Workers' Party (PKK) and the United Nations have also been calling on the Turkish authorities to open up the border to allow PKK reinforcements to enter Kobane.
However, Prime Minister Ahmet Davutoglu has stayed resolute, insisting that Turkey would only allow aid and Syrian refugees to cross the border back into Syria.