Marriage against the school fence segregating the pupils
Ethnically and religiously mixed marriages in Bosnia are not new. They were happening even during the 1992-1995 war. The conflict included Serbs (mostly Orthodox), Croats (mostly Catholics) and Bosniaks (mostly Muslims) and resulted in an estimated 100,000 dead and 2.2 million displaced.
The Dayton Peace Agreement split the country into the predominantly ethnically-Serbian Republika Srpska and the Federation of Bosnia and Herzegovina, which is mostly shared by ethnic Croats and Bosniaks.
So, the marriage between Elisabeth and Inas shouldn't be news either. However, on Saturday June 29th, seven days after a fabulous wedding ceremony in the central Bosnian city of Travnik, she decided to publish one of the pictures she got from their wedding photographer so far.
It was 10 a.m. when she posted them on Facebook. A few hours later, N1 (CNN's exclusive news channel affiliate) published her post under the headline: "Photo of the year comes in Travnik: A great love destroys the fence of division". And then the story and the picture went viral.
"It was our idea, not our photographer's, since he did not know which schools we had attended. We talked about it several months before the wedding, we thought it might be one of the places to take a picture and we just did it on our wedding photo session", Inas (25) told FairPlanet.
A school building in the town of Travnik in central Bosnia has a fence running in the middle of it. The right-side hosts a primary school and grammar school for Croats/Catholics, while the yellow part is the secondary school for Bosniaks.
"To be honest, I never bothered about the two schools. I have been seeing that fence daily. At least they could make it nice, but it has reinforcement bars to divide us", Inas said, recalling his school days from 2009 to 2013.
He said that he has no idea why their marriage is the news unless if it is all about the fence and the caption Elisabeth wrote strongly glorifying their love against the imposed divisions.
"My mother met recently my Bosnian language teacher and now she is a principal in the grammar school I attended. She mentioned that we plan to get married and also to take a picture at the fence and my teacher was delighted. She asked my mom to send her the picture in order to share it. Unfortunately, we didn't manage to do it. Media and social networks were faster", Inas added.
In post-war Bosnia, large numbers of traumatised returnee parents refused to enrol their children in local schools. The Federation embarked on the "two schools under one roof" policy to encourage displaced families to reintegrate. It seems a temporary solution has become permanent. Western diplomats put pressure on the Federation to merge schools but authorities refused saying "you can't mix apples and pears". The divisions keep their voters homogenised and keep them in power.
According to the OSCE report issued in December 2018, the phenomenon with some 56 schools is the most visible example of discrimination in education in BiH. It took 25 years from the beginning of the war before a new generation came out and refused to be separated by their nationality and taught there are inherent differences between them. In 2017, a group of pupils in the town of Jajce raised their voices against segregation by protesting in the streets and jointly displaying Bosnian and Croatian flags together, attracting media attention from all over the world.
I contacted Inas and Elisabeth via Facebook. Inas sent me his phone number, asking to call him after 5 p.m. I found him at her workplace. She is also 25, and is in the final year of criminology studies as well as running her own beauty studio. Inas is jurist, running his own business in adult education and in real-estate. When we finished the conversation, he asked me if I'd like to talk with Elisabeth too.
"The idea came spontaneously. Our wedding photographer accepted it; he really did his best. The sun did not work in his favour. It was a very hot day. There was garbage containers in front of Inas's school and he had to manoeuvre to avoid them, and so on. We couldn't imagine the explosion of reaction, but he was the one who predicted it", Elisabeth said.
Back to her school days. She recalls not only the fence but the different shifts that prevented children from meeting each other.
"We started 7.30 a.m. and then the school was locked up. They started some 15 minutes later in order not to see each other during the breaks", she added.
"As children, we've been not meeting each other. We've been seeing each other in front of the school or at the nearby cafés after the school, but we had no contact, everyone was tied to their group. It was not that we wanted so, the things were simply just like that. Those divisions were always visible", Inas recalls.
In 2013 both went to capital Sarajevo to study, but they did not meet there. They've been coming home over the weekends and visiting the cafes he used to visit during the high school. One night in 2014 it was a huge crowd and they took the same table and started a small talk.
"I remember I used to say to my parents that I met Ina, which is his nickname. They never asked anything, being absolutely sure his full name must be Ivan or something like that; a typical Catholic name. I had no courage to tell him he is Muslim", she says, laughing. She adds her father had a small heart attack once she told him the truth.
"All the problems I had in my family because of my choice ended the very same moment they met him", she said.
"When I came to her place for the very first time (Nova Bila near Travnik), she asked if I know how many Muslims there are currently there: one, including yourself, she told me", he said.
Support Fairplanet
We depend on readers like you to keep our impact journalism strong.
Fostering global inclusion all our journalists are being paid equally across the planet.
Thanks to a grant each first time user receives 100 coins (10 €) for FREE. Use the code "fairplanet" after clicking the donation button.
Or click the red info icon for instructions.
© ID Photography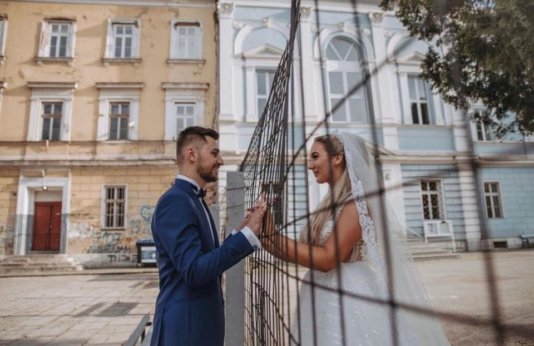 © OSCE Mission in BiH