"Recuperating" is the social squatting in Spain
Lorena Meca used to live with her husband and two daughters in her own apartment, bought with a mortgage in Puerto de Mazarron, a tourist village on the Spanish coast. She worked as a waitress and her husband was employed in the prosperous building industry. With the two salaries they had no difficulties making ends meet. But seven years ago both of them lost their jobs, just like many other people in the country during Spain's economic crisis.
The Meca family couldn't pay the mortgage any more. The bank took their home and they moved to Madrid, searching for better work opportunities. But the situation didn't get better for them.
One day they are told about a citizen network by some other people suffering in the crisis and the austerity policies. The platform for People Affected by the Mortgages (PAH) has a branch in Vallecas and organizes groups to squat empty buildings.
At first the Mecas are reluctant. They fear being called squatters, but they are on the edge. Their landlord is increasing the pressure – cutting off electricity and water supplies, sending people to intimidate the Mecas – only to make them move out.
Just when the PAH had an 11-apartment unfinished building the Mecas finally joined the platform. The construction company who had owned that building went bankrupt and the financing bank became the owner.
The Meca family lived in that apartment building for almost a year without windows, with a low voltage power connection and no water supply. "We got a power connection, but if we turn on one light, we had to turn off the others. When the neighbour turned on the microwave oven, we had to unplug our electrical appliances," Lorena remembers. "With no windows nor water, my younger daughter got an eye infection. It ulcerated," she adds. It wasn't easy for their older daughter, either. "In school she didn't want to say where she lives. She was embarrassed. She's still undergoing psychological treatment," Lorena explains.
Spain sees an increasing number of people who are not able to pay their rent, let alone a mortgage. "Spain leads the European ranking of empty apartments, with 3.5 million," says Carlos Macías, spokesman of PAH. "The stock of social rental housing is less than 1% of the total existing housing stock".
From the late 1990s to 2008 the Spanish property market boomed and many people bought apartments as an investment at exorbitant prices with mortgages of up to 30 or 40 years. But a big number of them couldn't be rented and stood empty. This enormous real estate bubble was one of the reasons for the following economic crisis. The situation became worse. The deceiving prosperity vanished, many lost their jobs and were not able to pay their mortgages. Many families were evicted. According to the Spanish law, people have been forced to pass their houses to the financing banks but are still owing them the loan.
Since 2007 there have been more than 370,000 evictions and almost 200,000 are still in process. In addition, many empty apartments raise the rental prices. As Spain has an unemployment rate of over 23 percent, many people cannot afford to rent anymore.
Macías explains the situation with the example of the Catalonia region: "This region leads the eviction ranking in the state. Up to today there have been more than 50,000 evictions and there are another 116,000 in process. The stock of social housing is lower than 30,000 apartments. This compares with almost 450,000 empty apartments, many of them owned by banks."
Most Spaniards disallow the management of the crisis by governmental authorities and criticize the behaviour of the banks, especially as many of them have been rescued with public funding. As a result, social engagement and protests are increasing within the Spanish society and citizens associations are flourishing.
PAH is one of them. Founded in 2009 by people left desperate by the loss of their homes, its members help each other and share information about the administrative tools they can make use of. They are now an important group for social and political pressure to stop evictions, and they have more than 200 branches across the country.
The images of their members demonstrating in front of residential buildings against the evictions of families have became the symbol of a population fed up with the management of the crisis by the government and the taking advantage by the banks with no consequences but for the citizens.
PAH's success and popular support encouraged them to go further and lobby for policies against real state speculation in order to fit the rental prices to the reality of the people's economy, to enforce tenants to put empty houses on rent and to increase the stock of social rental housing.
As their demands have been rejected so far, "the PAH's next strategy is getting the right to an affordable housing by ourselves", Lotta Tenhunem explains, representative of PAH in Vallecas. "We have begun to take back building by building, all these residential houses belonging to banks that were rescued with public funding."
The goal, she points out, isn't to live in there without paying. They inform the banks, negotiate with them and try to get socially compatible rents with the help of political authorities. PAH doesn't consider this practice as squatting; they call it "recuperations".
"Our society has invested millions of euros in the banking system and they haven't given anything back. We are all paying the bad management of banks. These apartments are the property of the people", says Macías.
"We only take a building when we consider it as legitimate that citizens get it back. That means, the building has to be owned by a bank. We immediately start the negotiations with the owner," Lotta confirms.
Lotta, a sociologist, also lives in one of these "recuperated" houses. Before that, she had to pay 250 Euros for a room in a shared apartment with four other roommates. This rent took half of her earnings from a research grant and when the grant expired, she didn't find a regular job. Now she is a freelancer with an average income of 300 euros a month - not enough for a rented apartment in Madrid.
Lorena Meca's family was luckier. The bank who owns the building they "recuperated" agreed to negotiate. In the end other empty, more suitable apartments for the eleven families were provided out of the bank's property portfolio. Now Lorena's family lives in a three-rooms flat. They pay 50 euros per month plus utilities. "The price is fixed individually accordingly to the documented incomes of every family. We ask that it can not be over 30 per cent of the overall incomes," Lotta says.
Thanks to Lorena's new part-time job as a caregiver that pays 360 euros per month, she can afford the new home. Remembering those times of living in an occupied apartment without electricity and water, Lorena says: "I only hope that people who get a social rent won't have to go through the same situation as we did. It's very hard. It affects you psychologically. It has an impact on the relationship within the whole family…"
Support Fairplanet
We depend on readers like you to keep our impact journalism strong.
Fostering global inclusion all our journalists are being paid equally across the planet.
Thanks to a grant each first time user receives 100 coins (10 €) for FREE. Use the code "fairplanet" after clicking the donation button.
Or click the red info icon for instructions.
© Pablo Pérez Álvarez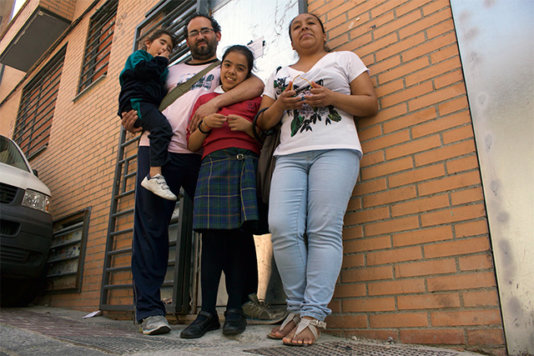 © Pablo Pérez Álvarez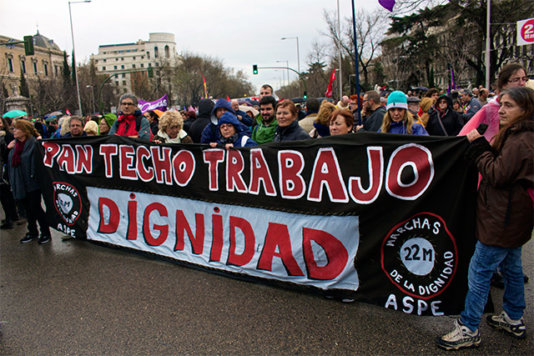 © Pablo Pérez Álvarez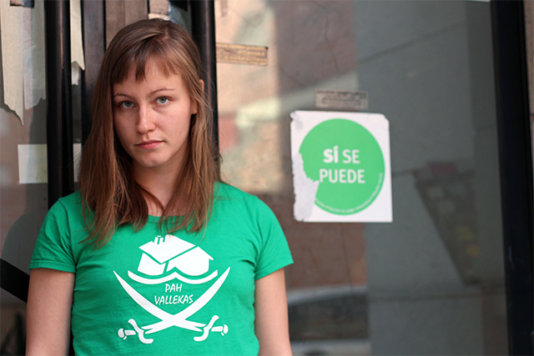 © Pablo Pérez Álvarez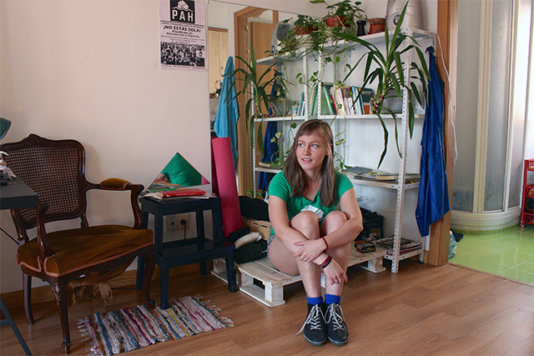 © Pablo Pérez Álvarez