The slow dying of cocoa processors
Due to serious financial constraints, most of these indigenous cocoa processing companies are unable to purchase cocoa beans during the main crop season instead they heavily rely on the light crop beans which are known to be cheap but less produced for processing, investigation revealed.
The Managing Director of Niche Cocoa Company limited, a wholly owned Ghanaian company Mr. Edmund A. Poku, in an interview with this reporter emphasized the need for financial support from government to help his company participate in purchase during the main crop season.
"As you can see, this company is a wholly owned Ghanaian firm. With an investment of more than us $20million dollars. We operate within the free zones enclave in Tema. Our main problem or challenge is the inability to purchase cocoa beans during the main crop season. This is because they are expensive. Besides, we are unable to compete with the multinational firms who purchase these beans during the main crop season due to their huge financial muscles".
"What we need is something like a concessionary loan that is a loan with a highly low interest rate directly from government that will cushion us to purchase cocoa beans during the main crop season. This will enable us compete favorably in Ghana and the West Africa sub region. "We will have more cocoa beans to buy process and supply to the sub regional and regional market", he stated.
"Currently, we have the capacity to produce more. Power and water supply here is stable; the workers are willing to work but there is no money to buy the beans.so we are appealing to government for the support to see us through.
"Niche Produces High Quality Liquor, Cocoa Cake and cocoa butter. Niche does not only focus on processing of Products but believes in Value Addition Through various means including our customer service and support processes. So we some support I believe our expansion drive will be massive", he stated.
In a related development, The Acting Managing Director of Cocoa Processing Company (CPC) Dr. Frank Asante, also in an interview called on government to consider releasing funds into the operations of the company to save it from total collapse. "Listing on the Ghana stock exchange did not help us. We have the capacity to produce more and sell for profit but there is not money to buy the cocoa beans. The debt CPC owe its investors is overwhelming. We are therefore appealing to government of Ghana to intervene and grant us some concessionary loan to buy the cocoa beans. We are determined to pay any amount of money government invests in our operations and on time". He noted that reasons for the huge debts political interference by some previous administrations.
The Deputy Minister of Trade and Industry, Mr Carlos Ahenkora, said in an interview on the issue noted that the concerns of the cocoa processing companies were genuine and indicated that the ministry would consider the plights of the companies and grant them the needed support to grow".
"The agenda of my government is to create employment for the youth. It is obvious that these processing firms have the capacity to create more jobs for Ghanaians either directly or indirectly and there is a need to support them. My government will do everything possible to give them what they require to survive.
He however urged them to take advantage to whatever support that would come their way to sustain their operations since it would come again subsequently should they mess up.
The Board Chairman of Cocobod Hackman Owusu Agyemang in an interview on the plight of these cocoa processing firms indicated that Ghana Cocobod has initiated a program that would support the processing of about 50% of Ghana's cocoa beans into value addition products and everything would be done to equip these companies help government realized this dream.
"The time has come for us to add value to our cocoa produce and since these firms are already established, l will convince the president to accept the proposal to provide all the financial support necessary for Ghana to realize this dream. The market is already there, looking at the population of West Africa which is over three hundred million people. I believe that embarking on such a move will assist them get into all the sub regional markets".
This will create jobs, enhance revenue and income for all the stakeholders and also grow the economy of Ghana. I believe it's a good move "he noted.
Meanwhile President of CPC shareholders Association, MR Sas George has lauded the decision by government to support CPC with financial support to operate. This he said will help improve the operations of the company and also help increase profit. We believe that when such a support comes to CPC it will improve the operations, realize profit and enable some of us, the small shareholders have some dividends." He added.
CPC, formerly wholly-owned by the state, is partially privatised after the government offloaded 25% of its stake and listed it on the Ghana Stock Exchange in February 2003.
The government owns about 48% of CPC's shares, with state-run industry regulator Ghana Cocoa Board controlling about 22%.
Support Fairplanet
We depend on readers like you to keep our impact journalism strong.
Fostering global inclusion all our journalists are being paid equally across the planet.
Thanks to a grant each first time user receives 100 coins (10 €) for FREE. Use the code "fairplanet" after clicking the donation button.
Or click the red info icon for instructions.
© flickr/Rebecca Bollwitt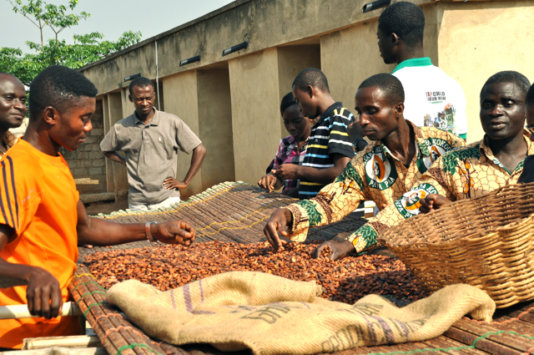 © GNA, GARDJA