Fourteen women against 'The Beast'
But that doesn't prevent Las Patronas to prepare daily lunches for the Central American migrants who risk their lives travelling as stowaways in the freight train known as 'The Beast' to get to the United States. They've been doing this for 20 years now.
It all began in 1995, the day that two sisters from the Romero Vásquez family, Rosa and Bernarda, were coming back their parents' house after shopping for bread and milk. They had to stop halfway to let the train pass. Several migrants were hanging on their carriages. One of them, as he was getting closer to the sisters, shouted: "Please, give me your bread. We're hungry".
The then young and naive Romero Vásquez sisters had seen that for some time now, the train carried people with strange accents on its roofs and side platforms. "At first, when we saw the people, we thought they were Mexicans from other regions who got on the train to travel as tourists. Because they wanted to know other places but they didn't have enough money to buy a ticket" remembers another sister, Norma.
As time went by, they realised that these people didn't travel that way for pleasure, that, on the contrary, they needed help. "We were unaware even of where they came from. We were ignorant of what Central America was, as we actually didn't even know our own country", Norma adds.
So that day, when the stowaway who looked hungry asked for their bread Rosa turned to her sister: "Do we give it to him?". "If you want to, do it", Bernarda answered. So Rosa reached out her arm and when the traveller passed by her side, he took it.
But in the following carriages, more people had similarly pleading expressions: "Please, give us your milk". Bernarda emulated her sister and the litre of milk passed from her hands to those of another migrant. When the women got home, her mother, Leonila Vásquez, incredulously asked them: "Where are the bread and milk?".
"From that moment we began to organise ourselves to prepare food for the migrants", says Rosa. "We talked to our mother and proposed: "What do you think about preparing some food?". The next day they were already handing out lunches. Soon other women from La Patrona joined the Romero Vásquez family. Now they are a group of 14 people.
Known as Las Patronas (The Patron Saints), in honour of their village, they prepare food for the now huge number of migrants travelling on the train every day of the year. No matter if it's sunny or it's raining cats and dogs, or if it's a working day or a feast day.
The day of the group starts very early. They go to the markets to get some donations (bread, corn tortillas…) and buy other ingredients like vegetables, chili, rice… Then wait for the phone call of a congregation of nuns from the previous train stop, in Tierra Blanca, a village a few kilometres south of there to tell them how many migrants are travelling on the next train. They prepare rice and beans for all of them in a big pot, put them in plastic bags with tortillas and bread –if they can they some extras like scrambled eggs, cans of tuna or donated cakes- and tie bottles of water in pairs with a piece of rope.
They wait until they hear the train coming, then they get out to the railway with all the food in big boxes and a wheelbarrow and line themselves along the track. When then train passes by, the first one yells: "Food! Food!", to alert the migrants so that they lean out. The women reach out their arms with the lunches and the water to a distance where the migrants can grab them when passing by.
It's a risky action, as sometimes the train, even with reduced speed travels very fast. But they are experienced in it and know how to avoid any accident with 'The Beast'.
That's the name for the freight trains which go from South to North or Mexico due to the danger it poses for the thousands of Central American stowaways who use them to get the United States border. Many times they'll try to get on board with the train moving. If they put a foot wrong their legs can be drawn under by the suction force of the train wheels. Others fall down from the carriage roofs and side platforms as they nod off on the long trips. Many of them have died or been mutilated by the merciless train along the years.
Times have changed since those first migrants travelling on 'The Beast' that seemed to be tourists to the Romero Vásquez sisters. Crossing Mexico has been an increasingly dangerous challenge for migrants.
They not only risk being torn apart by the train. The pressure from the authorities has increased. And also the abuses and the extortions by immigration officials. The railway companies also chase them and have hired security guards and placed them in strategic spots to prevent the stowaways from boarding their vehicles by striking them with clubs. Many Mexican citizens repudiate them, protest when migrant shelters are built in their neighbourhood. Some even try to take advantage of them and scam them.
But the worst has come in the last decade, with the outburst of violence in Mexico in the context of a 'war' against the drug trafficking. Organized crime, increasingly powerful, also wants a slice of the lucrative irregular migration business. Travelling as a stowaway on a train is not free anymore.
The drug cartels try to Diversity their sources of incomes and now they charge the migrants with around 100 dollars for each stage of the train itinerary. To collect the fee, they hire members of the maras, the ultra-violent gangs from Central America. They get on the trains and kick out those who refuse to pay or simply haven't got enough money.
The migrants also risk being kidnapped by drug cartels to ask a ransom for them to their families or to forcibly recruit them to replenish their ranks.
Coming across with a group of women who disinterestedly offer them water and food, when some of them may not have eaten in several days, is a relief for them and a boost to move forward.
Their efforts have been rewarded with several humanitarian awards and the national and international recognition. As a result, they receive donations that have allowed them to carry on working, as the number of migrants travelling on the trains has multiplied since the group's beginnings. From the 30 lunches they prepared 22 years ago, they have to do dozens or even hundreds nowadays.
Besides, "in 1995 things were cheaper and we managed with our own money. We didn't suffer hardship", but since then the incomes of the Mexican peasants have plunged in relation to the cost of living, explains Norma.
They keep living off the land, mainly growing coffee, or off small food stores. Even so, they haven't ever considered to stop helping the migrants.
"At the moment you hand the bag with rice or beans to them, you say to yourself: 'I take away this person's hunger', claims Rosa. "You feel a great satisfactions and think: 'I'm good for something, I'm useful'".
Support Fairplanet
We depend on readers like you to keep our impact journalism strong.
Fostering global inclusion all our journalists are being paid equally across the planet.
Thanks to a grant each first time user receives 100 coins (10 €) for FREE. Use the code "fairplanet" after clicking the donation button.
Or click the red info icon for instructions.
© Pep Companys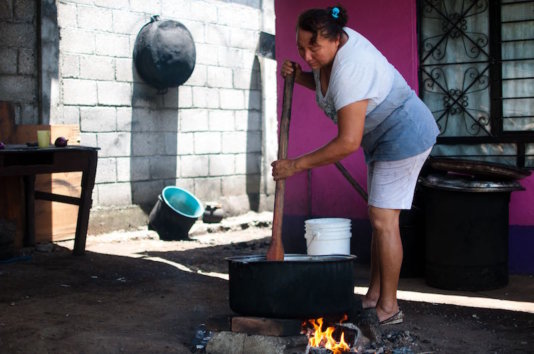 © Pep Companys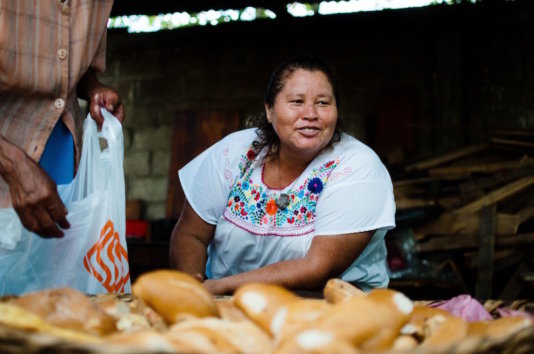 © Pep Companys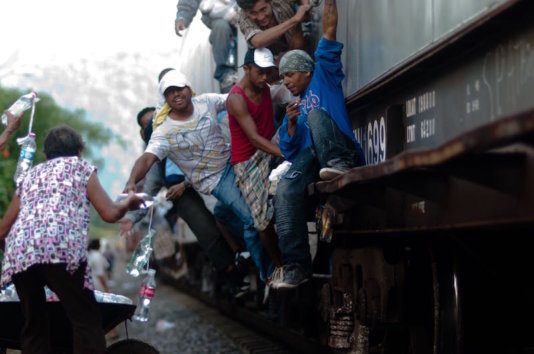 © Pep Companys