Music over migration or early marriage
In an early afternoon, the building of the Intercultural Institute Calmécac is quiet, even though inside, a philharmonic orchestra is being educated.
Students from different communities in the state of Oaxaca, some of the communities very remote, found their places on benches, at tables, or they sit comfortably on the floor, reading books of their choice. It is an unusual picture if one expects to enter a space where musicians are being educated. However, reading is an obligatory part of the curriculum in this institute.
"Before I decided to establish the institute, I analysed the system of musical education in Oaxaca. In other schools they encourage you to become a good technical musician but they do not teach you to become a human being. That is why I decided to teach music - to educate better citizens", explains the director of the institute, Nathanael Lorenzo Hernández.
You might find his appearance a bit extravagant when you see him rushing in the streets of his village of Nejapa de Madero. His long hair tied to a bun, a large necklace around his neck with symbols of Mesoamerican cultures and a big wooden U-shape earring in one ear make him stand out. And so does his work.
Since Nathanael was a kid, he was attracted to music. Having grown up in a family of musicians and in a village with various cultural influences, it is not by accident that he ended up playing the main flute in the Oaxaca Symphony Orchestra.
When the time came to change his career path, he went from big stages to a community to work with children and youth. "The institute goes where nobody else wants to go. Often they are communities famous for growing drugs" he says. Over the seven years of its existence, Nejapa is already the third community where the sounds of the instruments of Calmécac's students became an integral part of a town's life.
Band gives life to a community
Music plays an important role in the day-to-day life of indigenous communities in Oaxaca. It accompanies big family events, as well as community religious ceremonies or ceremonies connected to the planting and harvesting seasons.
"The function of the community band is to give life. Give unity, be an example of what a community has to offer", Erick José Zacarias says. Coming from the Mixe region in the state, he has been playing saxophone in the institute for more than two years now. "I liked the idea behind the project. I enjoy co-living with other members", the 17-year-old comments.
"Sometimes people come and ask us if we can play at a funeral service, but they cannot pay us. The teacher Nathanael offers them a kind of social service and we go and play for free. He always tells us that we cannot commercialise the pain of others. This way we are learning that money is not everything", says 23-year-old Julia Reyes Luis from San Pedro Quiatoni.
Rules first, then music
Currently, the Intercultural Institute Calmécac has about fifty students, with more studying outside of Nejapa de Madero, but joining the band for the concerts.
The project is open to anybody who is willing to follow strict rules. Apart from reading, students also learn how to cook and to organise the space they share. They cannot eat any packaged products nor drink sweet drinks. And the use of mobile phones is also forbidden, except for times when they go back to their home villages.
The knowledge of music is not important when one wants to join the project. On the contrary, Nathanael Lorenzo Hernández and other teachers in the institute approach each student as an individual that has his or her own pace in advancing their music education.
Julia admits that she did not have a natural talent for music. "First, I had to pass an exam. Then, the teacher Natha decided that I would start with percussion so that I develop a sense for rhythm", recalls Julia who now plays a bass drum and is learning to sing and play guitar. "I imagine myself singing songs in Zapotec", says the woman who comes from a community where girls get married when they are 16-17 years old.
While Julia is aware that she still has to work hard to make her dream come true, her classmate Eber Rosales Pablo, who also comes from the Mixe region, is already composing his own songs and conducts the band when they play them at concerts. "I would like to bring traditional music to my community. I want to set up a philharmonic band for children there", he says.
Appreciate their identity
When reading time is over, the students at Calmécac are practicing for their concert at the biggest cultural event of the state, the Guelagetza. Nathanael himself composes the music, drawing inspiration from the immense richness of indigenous cultures in Oaxaca. The state has the highest percentage of indigenous population in Mexico and 15 indigenous groups.
"I use traditional music to teach my students about cultural values, values of our ancestors, the philosophy of communality," Nathanael explains.
Later on, Julia shows me the traditional dress from her village that she will wear at that concert. The dress nearly disappeared, yet she managed to find a woman who will bring it back by weaving another piece. "I was sad when I saw other classmates wearing their dresses from their communities. It felt like if I did not have an identity," Julia recalls.
She is also collecting Zapotec fairy-tales and is planning to create a book of them as her final thesis to graduate from the institute. "I asked my dad to tell me those stories that his parents used to tell him. My brothers joined us; we were all listening to him and remembering our childhood, watching the stars. I want to give something back to my village. It is nice to preserve the culture," she says.
Going to the musical institute instead of the United States
Many of Nathanael's students are now able to better appreciate their origins. "It is beautiful to listen to the melodies of traditional music. I used to listen to a very different kind of music that is popular in my village, but since I am here I have experienced an enormous variety of music," says Rubén Alejandro Cruz Perez.
He admits that if he had not joined the institute, he might have been in the United states at the moment. "People at my age from my village usually drive a moto-taxi or they work the fields. About one fifth of them lives up North. It has crossed my mind, too. My uncle told me to come with him two years ago, but the plan failed. And nowadays it is very complicated to cross the border," the 25-year-old contemplates.
Oaxaca is a state where 36 percent of youth does not attend high school; the reasons often are migration, pregnancy or economic reasons. Nathanael Lorenzo Hernández gives an alternative to young Oaxacans who think of migrating. However, he also became a musician to be able to travel, and he opens new worlds to his students as well. "We do not waste any opportunity to travel, as I find traveling very important when one is young - it gives you a chance to know new cultures, places," he says.
Support Fairplanet
We depend on readers like you to keep our impact journalism strong.
Fostering global inclusion all our journalists are being paid equally across the planet.
Thanks to a grant each first time user receives 100 coins (10 €) for FREE. Use the code "fairplanet" after clicking the donation button.
Or click the red info icon for instructions.
Current Map:
Our coverage
© By Noel Rojo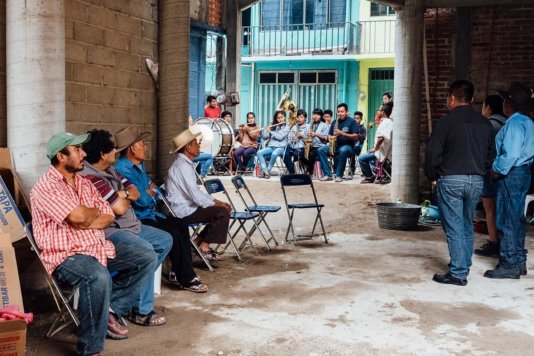 © By Noel Rojo
© By Noel Rojo
© By Noel Rojo