Rwanda's football fosters peace
September 15th, 2015
topics:
Humans, Economy
by:
Bob Koigi
located in:
Rwanda, South Africa, Tanzania, Uganda
tags:
Akwos, football, genocide, HIV Aids, Kigali Women, Nike, Rwanda, soccer, South Africa, Sport, Tanzania, Uganda
Started in 2002, the Association of Kigali Women in Sports (Akwos) has been pivotal in healing thousands of women who were the greatest casualties of the 1994 genocide that claimed over 800,000 lives. The enterprise has also given women a voice in national dialogue, debunking long standing cultural ethos that relegated them being submissive home caretakers.
Started by Felicite Rwemarika, a woman sports leader and entrepreneur, the enterprise would target women who were recovering from the trauma of genocide related atrocities like rape. In keeping them busy and building their confidence, Felicite would also use the popularity that football commands in the country to bring men to the discussion table and initiate conversations about gender based violence, women empowerment, HIV/AIDS, reconciliation and entrepreneurship.
But the resolve to deliver the Rwandese women from the yokes of patriarchal cultural practices would run into headwinds. The dominant perception in Rwanda for a long time had it that football was strictly a game of men with certain beliefs even classing it as immoral for women to wear shorts or lift their legs up in a kicking motion as happens in football.
But even as her idea faced fierce rejection, her resolve never fazed. She would start her focus on rural women, the most marginalized before moving to schools and creating incentives like scholarships for girls who participated in football. The success would roar nationally ultimately giving birth to the first national women soccer team and world class sponsors like Nike.
Her spirited journey has also seen her pressure the government which has in turn set up a specific sports desk for women in every provincial government office. This, on top of having a slice of the provincial sports budget also going to women related sporting activities.
The popularity of her women soccer campaign has also been buoyed by her tournament themed strategy. Every tournament has a theme to it, and Felicite invites institutions related to the theme to address women before the game, during half time and after the tournaments. Such themes include agriculture, gender equity and empowerment. Institutions keen on reaching rural women go through Akwos due to the power it has in numbers.
"Football fosters the essence of team work which is why it is key to development. You cannot refuse to pass the ball because your teammate is Muslim or Catholic, or from another ethnic group or district. Everyone is fighting to win, and that allows for growth, unity, and cooperation. From that point everyone stands together to promote the country at large," said Felicite while delivering her paper dubbed 'Peace Building Through Sports' at the American University in Nigeria.
The social enterprise now boasts of having organized conferences on gender equity in sport for social change which have drawn high level sports leaders from Netherlands, South Africa, Tanzania, Uganda among other countries. It has also received credit for rehabilitating former commercial sex workers by providing them with income generating projects.
And with the bulk of Rwandese women relying on agriculture, Akwos has been rolling out pilot projects meant to pool women together to start agriculture related cooperatives. Members also undergo financial literacy trainings with Akwos also organizing bespoke competitions nationwide to spur economic empowerment. These trainings happen after women interact in the football pitch. Already 300 women are involved in the income generating activities with Akwos anticipating an even bigger number as the popularity of the model soars.
Felicite's efforts haven't escaped the world. In 2012, she was announced as an Ashoka fellow. The global organization, one of the world's largest network of social entrepreneurs with a membership of close to 3,000 fellows spread across 70 countries, works with social entrepreneurs, assisting them to achieve the highest level of social impact in society.
Support Fairplanet
We depend on readers like you to keep our impact journalism strong.
Fostering global inclusion all our journalists are being paid equally across the planet.
Thanks to a grant each first time user receives 100 coins (10 €) for FREE. Use the code "fairplanet" after clicking the donation button.
Or click the red info icon for instructions.
Current Map:
Our coverage
© http://www.akwos.org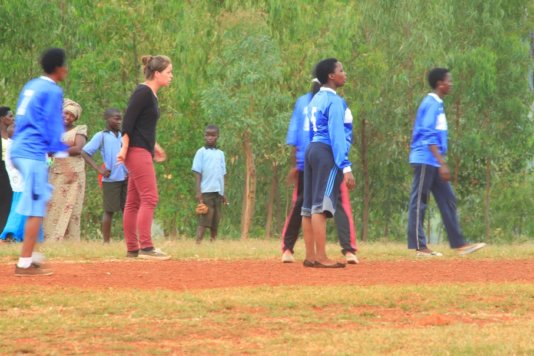 © http://www.akwos.org