The doctor who's always in
High up in the Nuba Mountains in the south of Sudan where the government has been carrying out its scorched earth strategy, dropping bombs on its own civilians in an attempt to defeat an armed rebellion, there is one missionary doctor who refuses to go home.
Defying a ban on humanitarian aid workers, American Dr Tom Catena was there before the bombs started and, if its up to him, he'll still be there whenever they finally cease wreaking havoc on the region.
"Dr Tom", as he's known to the locals, is the only surgeon serving the 750,000 people living in the mountain region. He delivers babies and performs routine appendix removals between amputating limbs, scraping out shrapnel and treating malnourishment caused by the devastation of war. Dr Tom isn't just a general surgeon, or a war surgeon. He's both, and more.
He manages to save lives without electricity, running water, or even an x-ray machine, and all under threat of bomb attacks. Since 2011 when the conflict began, 11 bombs have been dropped on his Mother of Mercy Hospital. These days the locals he's trained to be his staff are better prepared than they once were, taking patients to crouch in dug-out foxholes when they hear military aircraft approaching.
Dr Tom recently told Nick Kristof that it's his Catholic faith that keeps him there.
"I've been given benefits from the day I was born. A loving family. A great education. So I see it as an obligation, as a Christian and as a human being, to help."
And it's faith, it seems, that's keeping his community together. Nubans, who include both Muslims and Christians, are united in their praise of him.
A Muslim paramount chief named Hussein Nalukuri Cuppi has even compared Dr Tom to Jesus Christ. An unusual tribute from a Muslim but, as he explained, Dr Tom heals the sick, makes the lame walk and the blind see, just like Jesus did.
"People in the Nuba Mountains will never forget his name," said Lt. Col. Aburass Albino Kuku of the rebel military force. "People are praying that he never dies.
It must be faith and prayer that keep the Nubans going, across faith denominations.
"We're in a place where the government is not trying to help us," Dr Tom told Kristof. "It's trying to kill us."
While the Sudanese government continues to bomb the Nubans, the international community is turning a blind eye. Global leaders have stayed quiet on the issue, avoiding putting pressure on the Sudanese government to stop their reign of terror.
That's why Dr Tom stands out: because he is the only surgeon, and has been for the past eight years. He lives in the hospital, stays on call 24/7, only stops when he becomes unconscious with malaria, which happens about once each year.
He's committed despite a lack of support. He earns $350 per month, without any savings for retirement.
Nick Kristof, a writer and activist we have always admired here at Fairplanet, says he has a wish that Pope Francis will make an example of Dr Tom, and visit the Nuba Mountains to draw attention to the devastation there.
Until he gets his wish, you can support Dr Tom here.
Read more about the Nuba region
What might Africans expect from a second Obama Administration?
Books Banned In Sudan As Agencies Predict Repeat of Darfur Genocide
Support Fairplanet
We depend on readers like you to keep our impact journalism strong.
Fostering global inclusion all our journalists are being paid equally across the planet.
Thanks to a grant each first time user receives 100 coins (10 €) for FREE. Use the code "fairplanet" after clicking the donation button.
Or click the red info icon for instructions.
© savethenuba.com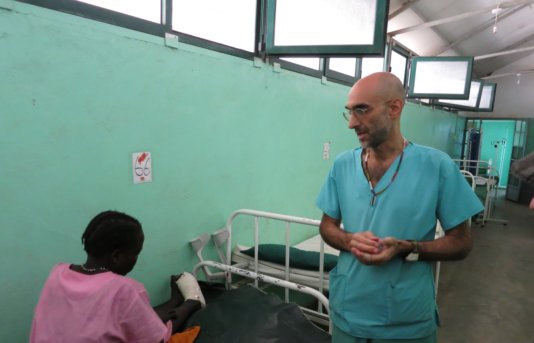 © http://www.canchanabury.de/