A "playful" way to fight for LGBT rights
August 29th, 2016
topics:
Humans, Arts
by:
Pablo Pérez Álvarez
located in:
Brazil, Argentina, Peru, Chile, Colombia, Venezuela, Paraguay, Uruguay, Mexico, Puerto Rico
tags:
Latin America, LGBTQI
Through the political struggle LGBT are slowly gaining rights in different countries, but in Peru an organization has decided to use art as a vehicle for their demands and, mainly, to get drive a better understanding of their cause.
No Tengo Miedo (I'm Not Afraid) has turned to theatre to draw solidarity for their cause problems, to demystify the stereotypes and to connect better with society. Gays, lesbians, transgenders, bisexuals and queers have stepped onto a stage in testimonial plays and have told first hand, without intermediaries, their life histories.
The idea of such initiative came from Gabriel de la Cruz, a lawyer, gay activist and theatre actor who took part in another testimonial play where he and other persons (all heterosexual) told about their relationship with their own country and how was to live in Peru. In the play, Gabriel told of how difficult it was for him to be openly homosexual in such a homophobic society.
It was only one scene, but gradually he noticed that in the LGBT community that caused a commotion, and many of its members attended the theatre because of it.
"Then, I realized that we lacked a space to be represented at a cultural level. If you look for an LGBT representative in the culture of this country, whether theatre, television, cinema… we have none. Or, if there's someone, we are depicted from the point prejudice, through marginalisation or mockery".
So, he decided to found No Tengo Miedo to use theatre to support the LGTB cause.
Its first project was 'From outside', a play where five people with different sexual orientation tell their stories and the meaning of being a member of this community in Lima: A girl who defines herself as pansexual. A transgender woman who explains how she was forced into prostitution and now she assists other women who do such work. Or Marco Pérez, a transgender man who tells about their 22 surgical operations in four years to the transition to get a full man's body or how he had problems to be identified with his actual male name in the University where he studies Psychology. They entwine their stories, mixing sourness and humour in an amusing cocktail.
After that, the organization has launched 'A monster under my bed', where several gay persons narrate the moment when they told their families their sexual orientation. And later came 'On the other side of the mirror', dedicated to the transgender females.
The method has been the same for all the plays: the direction team chooses the actors and actress, all of them from the LGTB community, and they gathered regularly to tell their stories and look for common experiences to find a connecting thread that allows to creating a meaningful script.
Tyra Guiccheti, one of the participants of 'On the other side of the mirror', says that after the meetings and the creative process in the final script they talked about their "childhood, the gender transition process, how we came out with our parents, about the bullying some of us suffered in the school, or in the university…".
"The first goal of the 'No tengo miedo' plays is to inform. Because, here in Peru, people know very little about the homosexuality. The only think they know is what the press shows or what is seen in the streets", Tyra stress.
There is "a lot of ignorance about the LGTB issues and problems", in the society in general but even among the politics and the decision makers, agrees Marco Pérez ('From outside').
This ignorance contributes to making Peru a particularly backward country, even in the macho Latin American context, regarding the in recognition of the LGTB community rights. Homosexual men and women are thrown out of their homes when they declare their sexual orientation, lesbians and transgender women may even suffer what is known as 'corrective rapes' inside their families. They suffer discrimination by the police and health services. A local NGO, Promsex, has registered over 100 homicides of gay and transgender people in the country since 2008 and the national Hate Crimes Law doesn't even include the sexual orientation cases.
These plays, performed in museums, cultural centres and universities, have contributed to a new way to represent the LGTB community in the arts, De la Cruz celebrates: "Now when somebody wants to make an LGTB theatre play they ask us for advice. There is a respect toward us, at least from the performance point of view". "Even, many theatre students ask interviews with some of No Tengo Miedo performers to prepare their characters", he adds.
But they have got other achievements beyond the theatre environment, as the organization has also the mission of influencing in the politicians to get support for some of the LGTB demands. During the last electoral national process 'From outside' was performed to a group of representatives from several political parties in order to make a way to those demands into their electoral programs.
Marco sees in this approach a new way to get the political world. "So far the relationship between LGTB community and politicians had been very confrontational, very focused in the claim. Using the art allows a different empathy, a better relation with the others. The art sensitized more people", he argues.
Besides, he says, the plays had a very positive effect in the LGTB community, as they had helped many of their members to let aside their fears and come out and even getting into de activism. "There's more people talking about their problems, being more visible and even speak out proudly of being transgender".
Some of them even found in the play a way to tell their families about their sexual orientation and "after the performance you could see a group of people crying and a hugging each other", Marco recalls. "It's very hard to tell your family that you're an LGTB person. So, after seeing their reaction to the play and feeling them receptive to the issue, they found the right moment to reveal it".
Tyra concludes that in the theatre they have found a "tool to show what society tries to silence. It's great to have a theatre teaching to vindicate people's rights. If you do it on the streets, in a public demonstration, you may be beaten up by the police. The art is a shield for us".
Support Fairplanet
We depend on readers like you to keep our impact journalism strong.
Fostering global inclusion all our journalists are being paid equally across the planet.
Thanks to a grant each first time user receives 100 coins (10 €) for FREE. Use the code "fairplanet" after clicking the donation button.
Or click the red info icon for instructions.
© Pablo Perez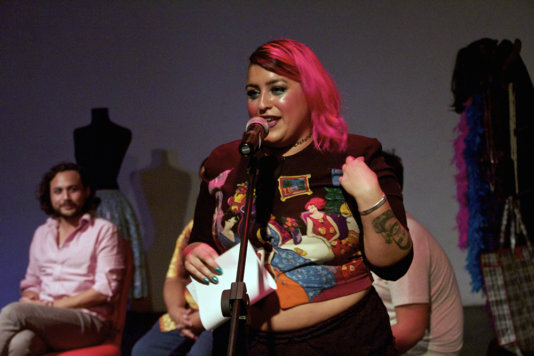 © Pablo Perez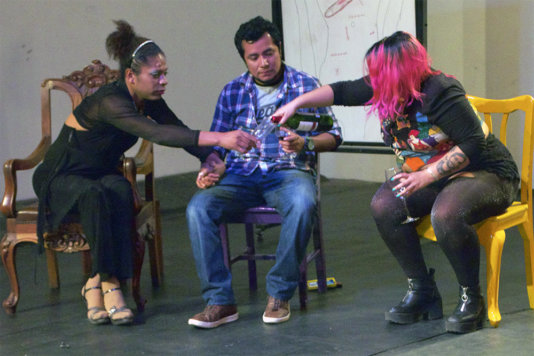 © Pablo Perez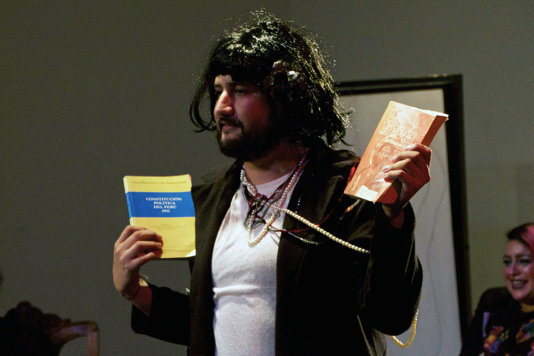 © Pablo Perez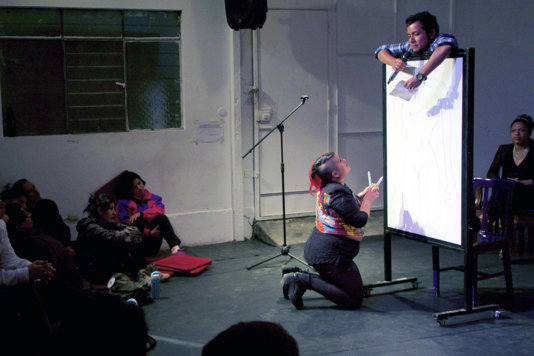 © Pablo Perez